A Cherry On Top "3 in a Row" Challenge -Beautiful Family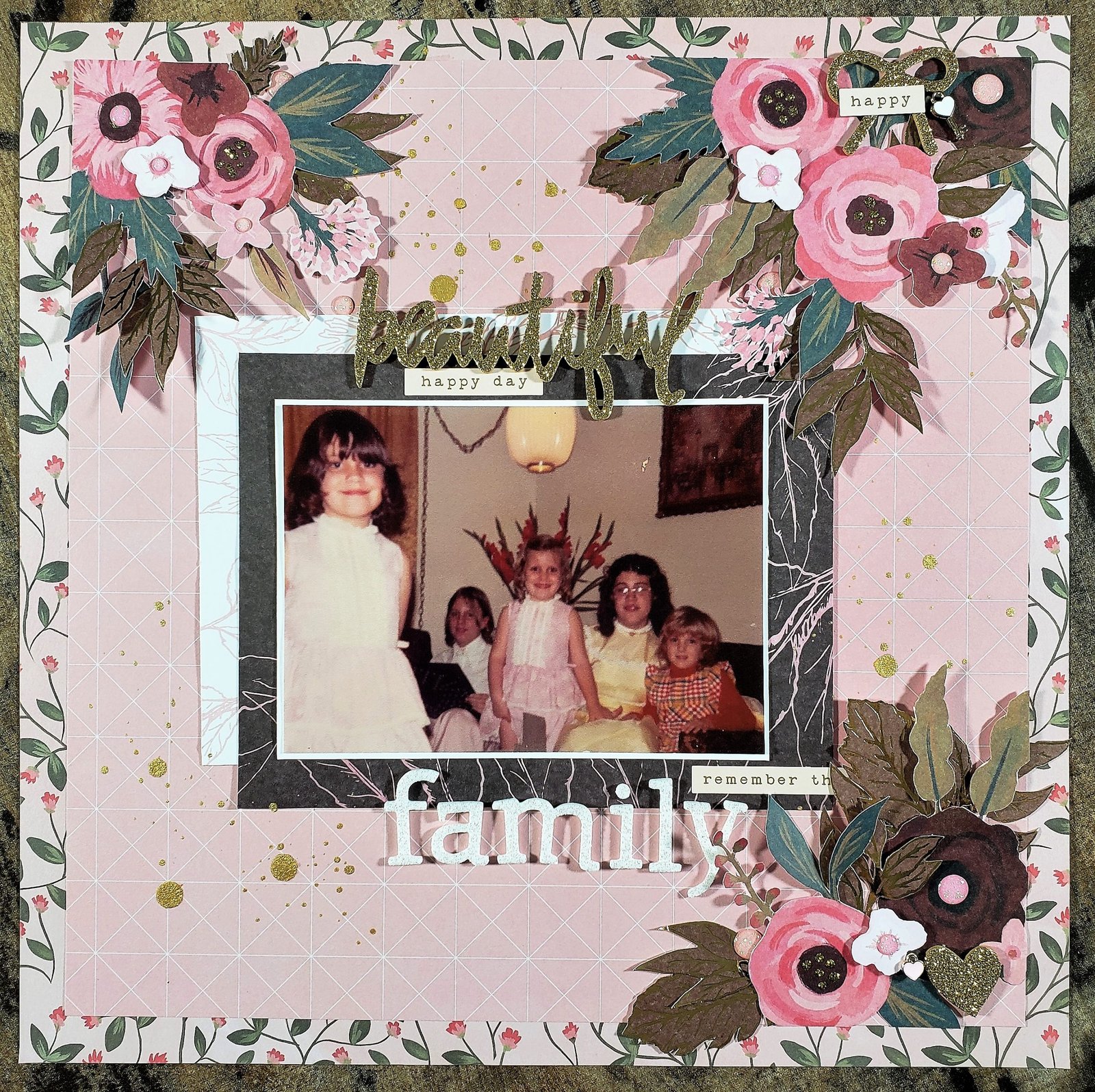 I watched a scrapbook process YouTube video from Becky Bitting where she created a layout for the "A Cherry On Top 3 in a Row" challene.  You can watch Becky's video on YouTube by clicking on this link.   I loved the layout that Becky created, so, I went over to Cherry On Top to look at the Challenge Rules and  decided to use this challenge to help me with a scrapbook page that I started and got stuck on.
Here are the challenge rules …  This is like tic-tac-toe … you must choose 3 in a row from the following list.
| | | |
| --- | --- | --- |
| hearts | semicircles | blue |
| frame | metal | a saying |
| large title | at least 3 layers | word stickers |
My layout started out with a scrap from the One Canoe Two Saturday Afternoon paper pad  that was left over after I cut a large circle from the middle of the page which I used on my previous layout.  I used the floral paper scrap to frame my page.  I then added a 11 1/2″ x 11 1/2″ piece of pink paper from the Recollections Cinnamon and Clove Paper pad.
I wanted to fussy cut some florals out of another paper from the Cinnamon and Clove paper pad and then once I did that I totally got stuck and couldn't figure out a layout.  The flowers were on the edges of the paper and so I had some straight corners that I had to deal with.
I found an old photo from when I was about 13-14 years old that went with the colors in the paper I was using.  I'm not really sure when this picture was taken, but it's of me and all 3 of my sisters from the 1970's.  I decided to layer some papers from the Cinnamon and Clove paper pad behind the photo.  The paper in this paper pad is so beautiful and the white and pink leaves and grey and pink leaves went so well with the other papers on my page.  
It was at this point that I decided to pick the last row from the challenge (Large Title, at least 3 layers and word stickers).  I already had 3 layers, so that one was easy.  Once I decided on the challenge, the layout quickly came together.  I found a large gold word "beautiful" from the Beautiful Thickers.  For the "Family" in my title, I used some white glitter foam letters from the "Sunny" thickers.  I love the sparkle from the Sunny thickers and it brings more of the white to the bottom of the layout.
I decided to use some pink and gold word stickers "happy day", "remember this" and "happy" and scattered them around the page.  I wanted more gold on the page so I added a gold heart and a gold bow from the "Beautiful" Thickers.  For some added dimension, I also cut out some leaves from another one of the Cinnamon & Clove papers and tucked those under the floral embellishment clusters.  I popped up some of the florals and leaves with some foam tape and I think it really adds depth to my page.  Some enamel charms (heart and key), some pink enamel sugar dots, gold Stickles, and Heidi Swapp gold color shine splatters finish off this layout.
Here's a full picture of my layout.  
I think the colors of this layout go so well with the picture.  So happy to have finally scrapped a layout of a picture from my childhood.
If you are interested in playing along with this challenge, here's a link to the challenge.
https://www.acherryontop.com/forum/viewtopic.php?f=25&t=265554