Scrap Our Stash June Challenge – So Happy Together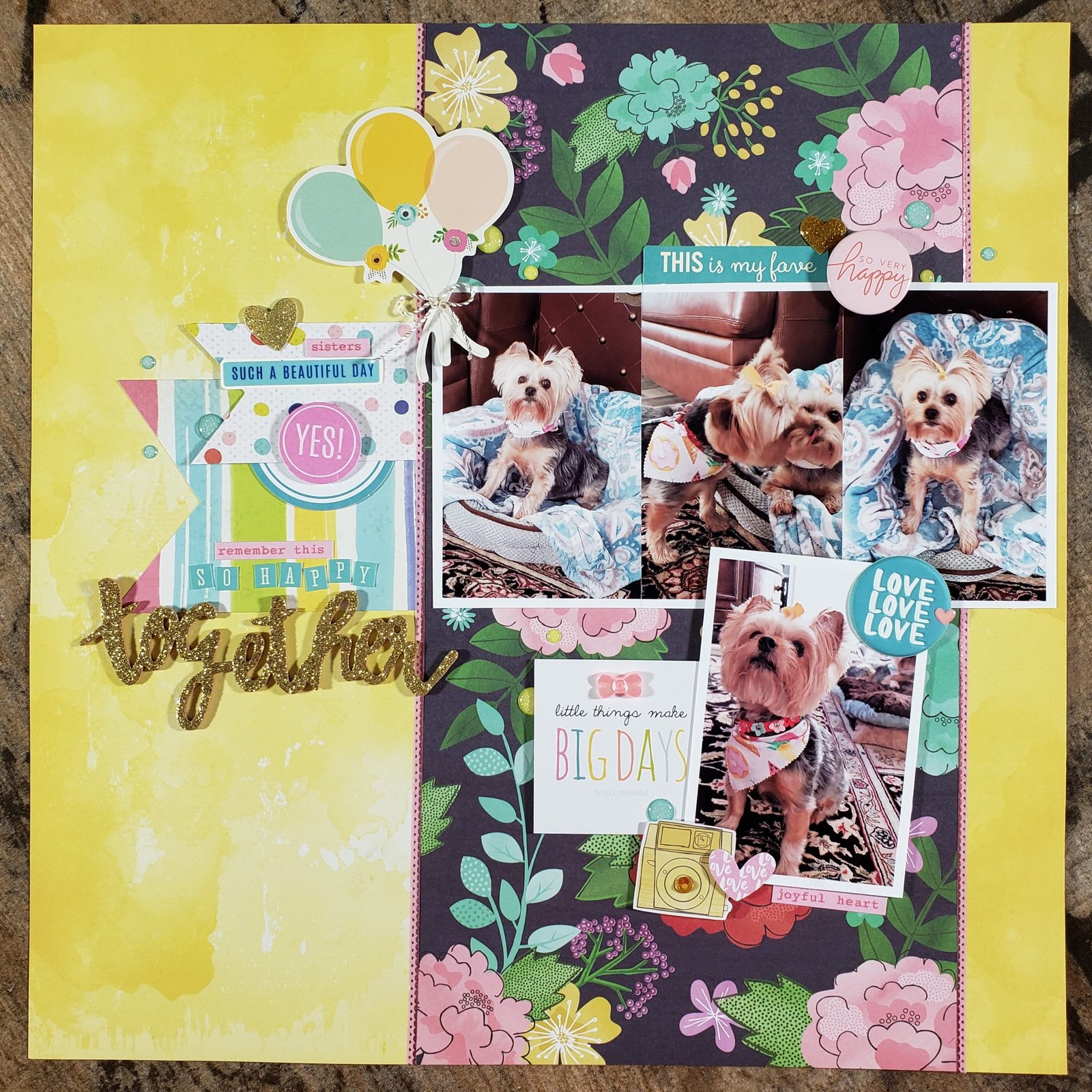 I created this layout for the Scrap Our Stash June 2019 Saturday Carton Inspired Sketch Challenge.  Here's a look at the sketch for this month.
THE CHALLENGE
Create a layout inspired by the sketch, and  the cartoon image.
You must include the color YELLOW and (1) or more SQUARE MBELLISHMENTS on your layout.
I started out this layout with a yellow patterned paper from the Vicki Boutin Field Notes paper pad.  I recently saw this paper pad on a Tuesday Morning haul video and was so excited when I found one of these paper pads at my Tuesday Mornings.  I couldn't wait to use the paper in this pad and the paper in this pad was perfect with it's bright colors.  Two banners from the Vicki Bouton paper pad are centered across the page and the floral patterned paper panel comes from the Shimelle Little by Little paper pad.
I added a square diecut with the quote "Little Things Make Big Days" which I thought was so appropriate for this layout.  My two dogs (Bella and LilyBelle) are sisters and when they were 4 years old, they started fighting with each other.  We've worked very hard to have them get along together and it makes me so happy whenever I see them being sweet to each other.
Here's a full picture of my layout.  
The colors of this layout are so bright and cheerful.  I love doing challenges because it makes me get out of my comfort zone.  Yellow is not a color that I usually scrap with and I think the bright yellow background really makes this page pop.
If you are interested in playing along with this challenge, here's a link to the challenge.
https://scrapourstash.blogspot.com/2019/06/june-saturday-cartoon-inspired-stash.html