Sparkle & Shine Day 4 (Shimmer, Pearl and Flakes)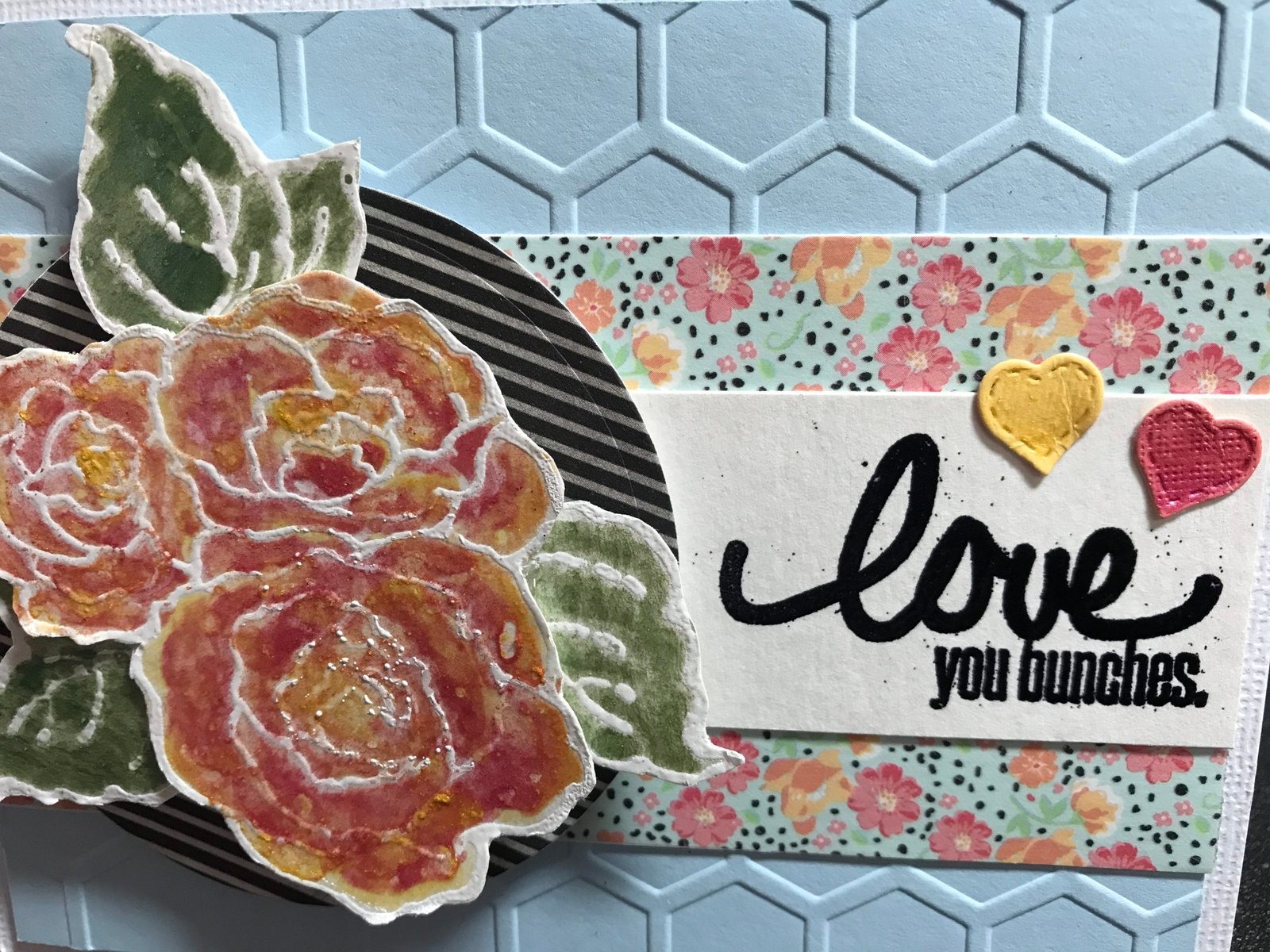 I have to admit that I have had Pearl Ex in my stash for many years.  And, I've tried a few times to use it, but was always left unhappy with the results.  After watching the videos from Day 4 of the Sparkle & Shine class, I learned how to use the Pearl Ex and the difference between Pearl Ex and Perfect Pearls.  I don't know why I didn't know about this before but it finally clicked on what I was doing wrong with my Pearl Ex when I learned that unlike Perfect Pearls, Pearl Ex has no binder built into it, so you have to add one.  So, off I went on the hunt for some Gum Arabic which I quickly found on Amazon.
Once I received my Gum Arabic in the mail, I was able to move on to some projects using the Pearl Ex.  It was so much fun to create inks using the Pearl Ex and the Gum Arabic and the results were breathtaking.  I'm super happy that I was finally able to use my Pearl Ex to create something that I'm proud to show off.
Card 1 – Love You Bunches
This card features a stamped image of flowers which was painted using custom inks created with Pearl Ex.

Supplies Included:
Ink made with Pearl Ex (Bright Yellow, Flamingo Pink, Green/Verdi Mix)
Stampendous Fran's Cling Stamp & Stencil Set – Build A Bouquet Set
Strathmore Watercolor Paper
Ranger White Embossing Powder
WOW Black Embossing Powder
Floral Washi
Stitched Hearts Dies
Spellbinders Circle Dies
Card 2 – Be the Good (… featuring Gold Leaf and Distress Glitter)

Supplies used include:
Gold Leaf
Viva LasVegaStamps Miracle Sheets (Double Sided Adhesive Sheets)
Crafter's Workshop Designs by Jamie "Webbing" 6″ x 6″ Stencil
Spun Sugar Distress Glitter
Unbranded Pierced Stacked Flower Dies