Scrappy Sisters Scrapbook Layout for PinkFresh Fridays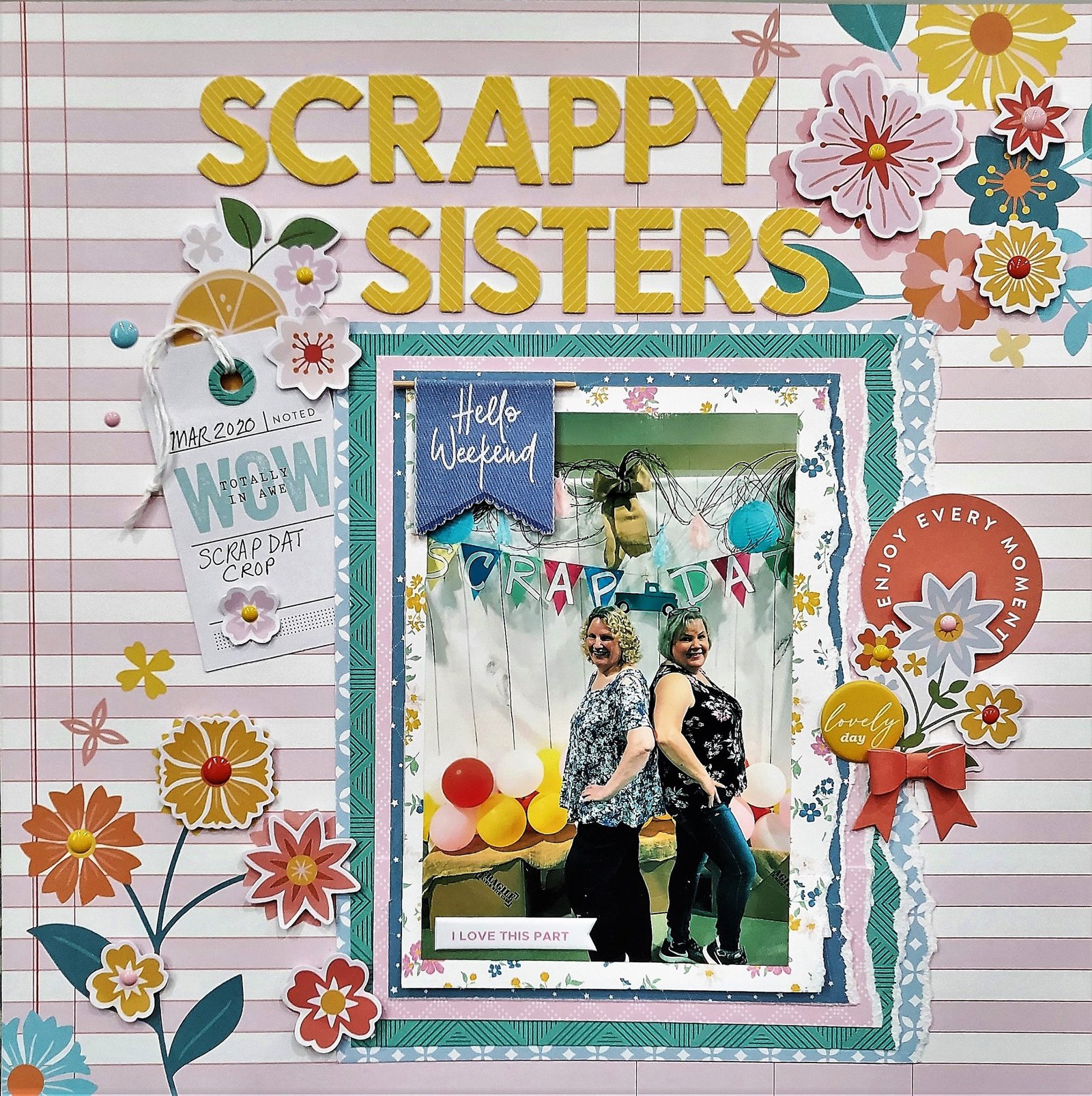 Hello everyone! We have an amazing group of scrappy designers that get together once a month for a YouTube hop to bust our Pinkfresh Studio stash. We have affectionally named our hop Pinkfresh Fridays! The links to join this hop are below. Please be sure to stop by everyone's channels and like and subscribe. Feel free to scrap along with us and bust your Pinkfresh Studio stash!
Click on the picture below to watch the scrapbook process video for this layout on YouTube.
For this month's PinkFresh Friday, I created a layout using the PinkFresh Some Days collection plus some papers from the Keeping It Real and Noteworthy collections. The picture that I used for this layout is of me and my sister, Terri when we were attending the ScrapDat Crop in Mandeville, Louisiana in March 2020.
I layered 5 different patterned papers behind my photo, tearing off the right edge to create a really fun and colorful photo mat.
The title for my layout is "SCRAPPY SISTERS" and I used the Basic Bold Alpha dies from Scrapbook.com and some yellow patterned paper from the Noteworthy 6×6 paper pad. I also cut out two of each letter in white cardstock and then I glued the two alphas from the white cardstock and added the yellow alpha on top to create a faux chipboard alpha.
I added some foam tape to some of the flowers from the "Some Days" floral ephmera and then layered the flowers over the flowers on the background. I added a tag from the Mixed collection to add some journaling to the left side of my photo. I also found a circle quote from the Mixed collection that said "Enjoy every Moment" that I added to the cluster on the right and then added a yellow puffy sticker that says "Love this Day" from the PinkFresh Noteworty collection and a bow that I created using the Binding Bow die from InLoveArtsShop.
I added some enamel dots from the Some Days collection to the center of some of the flowers to finish off this layout.
Here are some closeups of my layout.
And, here's a full picture of my layout.
I hope I've given you some inspiration for how you can use your PinkFresh studio stash for your scrapbooking.
#PinkFreshStudios