You Did It! Graduation Card created with the Beautiful Sentiment Vignettes by Becca Feeken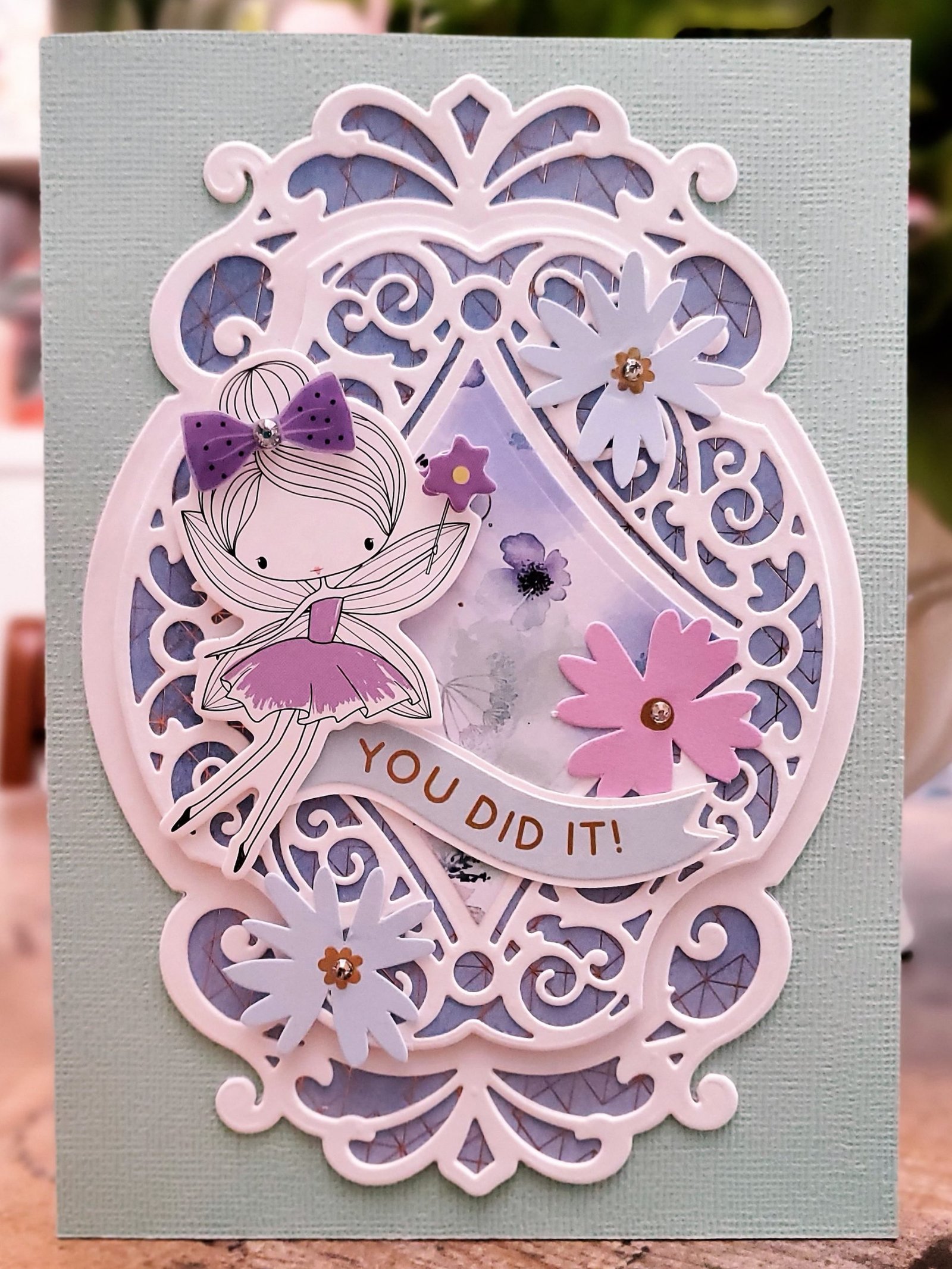 I'm super excited to share the cards that I created using the Spellbinders collection Beautiful Sentiment Vignettes by Becca Feeken. This is the second card that I created using the Romantic Chargeour die set. This card is a graduation card for someone very special who graduated from High School this year.
Click here to watch how I created this card using the dies from the Beautiful Sentiment Vignettes by Becca Feeken.
For this card, I decided to use cardstock and patterned papers from the 12×12 Paper Pad from Rosie's Studio Stillwater collection. This is the same paper that I used for my scrapbook layout that I created using this same die set. I started by selecting papers for my card and cutting out the layers for my card panel using the Romantic Chargeour dies (shown below).
Spellbinders Beautiful Sentiment Vignettes Romantic Chargeour
I cut out the solid main Card Panel using a blue patterned paper with a rose gold foiling. The decorative panels on top were cut out with white card stock. And, then the diamond in the middle was cut out with a blue floral patterned paper that also had rose gold accents. I created a 5″x7″ card front from light green card stock and then the card base using a white cardstock. I attached the main Card panel flat onto the card front and then popped up the next layer with some foam tape to add some dimension.
Next, I added a banner with the "You Did It!" sentiment which came from the Rosie's Studio Take Flight ephemera. I also added a fairy with a purple bow from the 3-D stickers and some blue and purple flowers from the ephemera to the front of the card. To finish this card, I added a few clear gemstones from Stampin Up and added another sentiment to the inside of the card which says "CELEBRATE this Day". This card was so simple to put together but it looks so beautiful and elegant just by using the Romantic Chargeour die set.
Here are some closeups of the card.
And, here's a full picture of the card.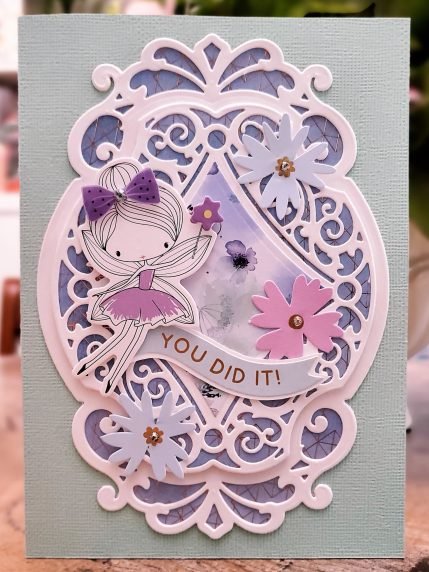 I hope I've given you some inspiration for how you can use the dies from the new Spellbinders Beautiful Sentiment Vignettes collection to create some fun cards that can be used for so many different occasions.
@teamspellbinders #Spellbinders #neverstopmaking