Scrap Our Stash | June 2020 | What's My Challenge | Mother Daughter Weekend
This layout was created for the Scrap Our Stash What's My Challenge for June 2020. For this month's challenge, use the recipe to create a layout and you must use all of the stash items included on the ingredients list. To spice up your layout, you are allowed to add any other ingredients you desire. If you are interested in participating in this month's challenge head on over to the Scrap Our Stash Blog.
I used a photo from a weekend trip to the Gulf Coast in Mississippi with my Mom and my friend Judy and her Mom. This picture was taken when we went to dinner one night during our stay. The papers that I used for this layout are from the Carta Bella "Oh Happy Day" collection.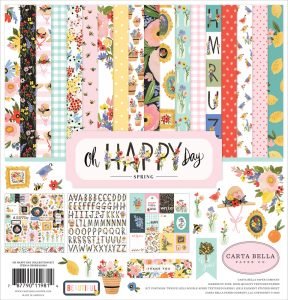 The background of my layout was created using Carta Bella Ultra White felt texture cardstock which I decided to use because I was using a Carta Bella collection. Carta Bella paper is just gorgeous and I felt that the paper deserved a background with the same lush feel. I decided to use five different patterned papers from the Oh Happy Day collection from Carta Bellow. And, I created a fun pattern on the background using wavy strips of paper that I made with the Creative Memories Decorative . I combined the Bella Blvd pink chipboard stickers and some copper gold foam thickers to create my 3 Word Title … "Mother Daughter Weekend".
The picture was matted with black cardstock to help it stand out from the background. I used several frames in the top right cluster and then used the other half of these frames in the top left cluster to add continuity and it serves as a base for these clusters. For my 4 different embellishments, I used die cuts from the Oh Happy Day Collection, twine, enamel dots and puffy stickers. I also added a tag with some pink and white twine under the picture. And, fussy cut some flowers from one of the patterned papers and added it the top cluster.. Some tiny bees, a butterfly, some flowers and enamel dots in yellow, pink and aqua finish off this layout.
Here are some closeups of my layout.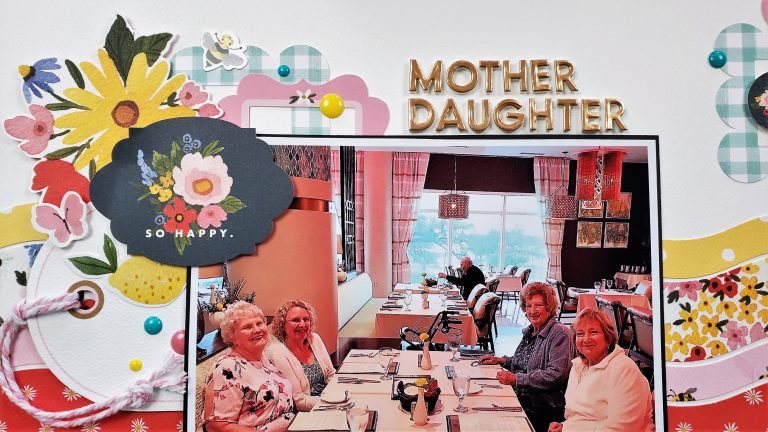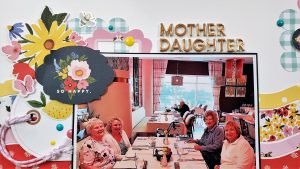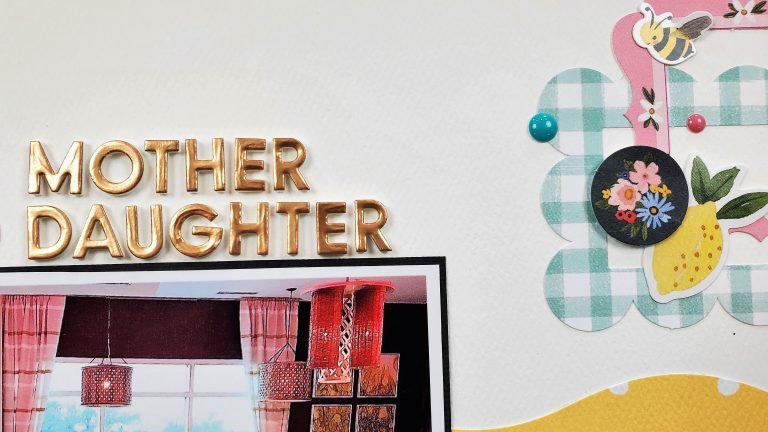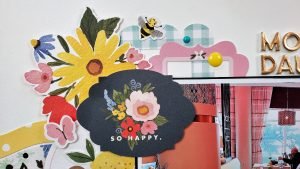 And, here's a full picture of my layout.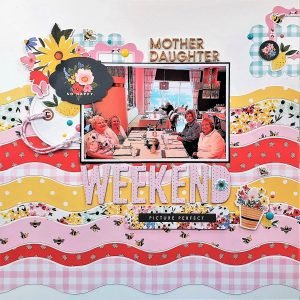 I hope I've inspired you to join in on this month's challenge. For more inspiration, go over to Scrap Our Stash Blog and check out the other Design Team Member layouts for this month's challenges.