Scrap Our Stash | July Sketch Challenge | Funny Looks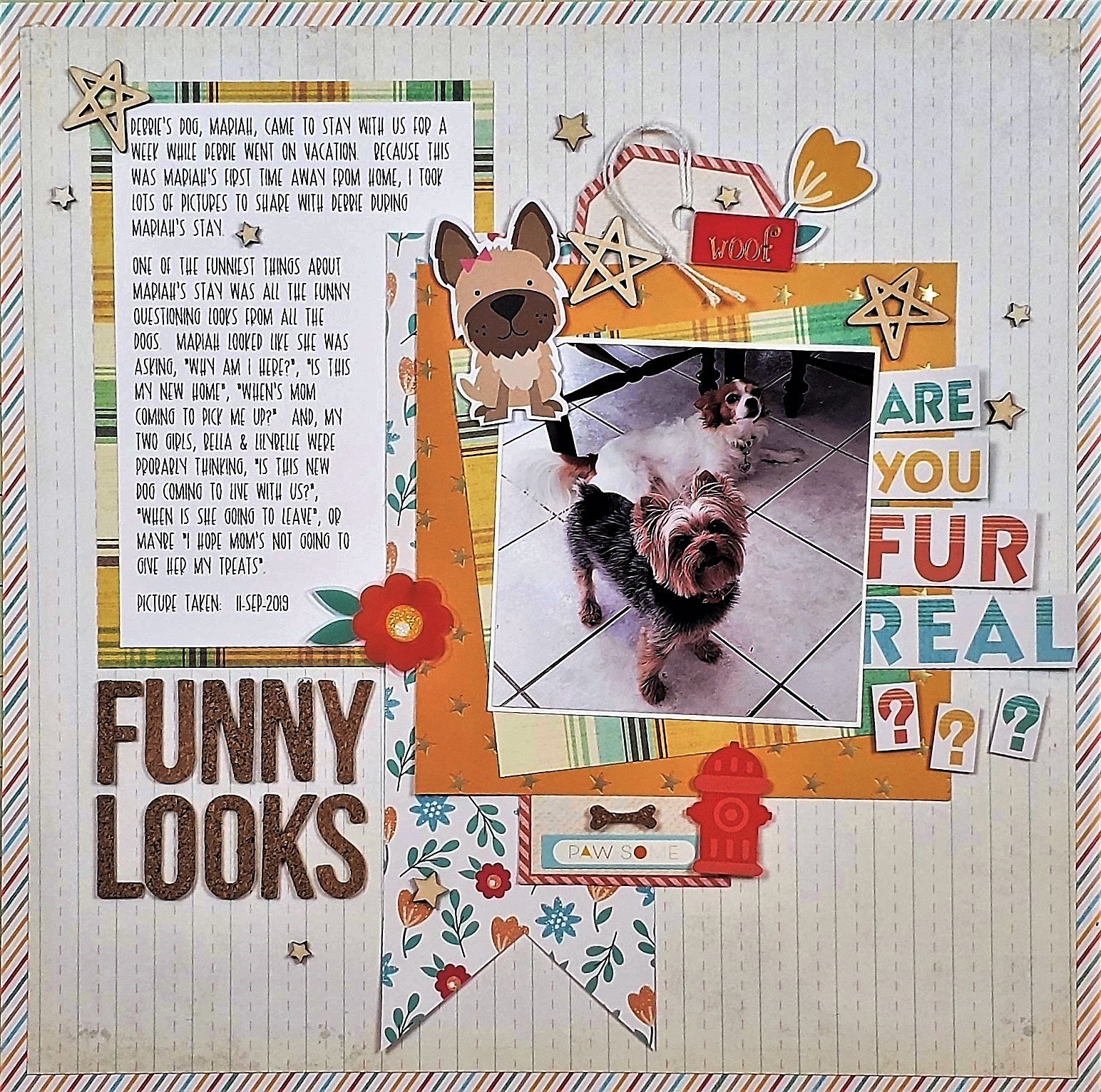 This layout was created for the Scrap Our Stash Sketch Challenge for July 2020. If you are interested in participating in this month's challenge head on over to the Scrap Our Stash Blog.
For this challenge, create a layout using the Sketch below. Also, you must also use a star patterned paper and star embellishments on your layout. Upload a link to your layout to Scrap Our Stash Blog by July 29th to be entered into the challenge.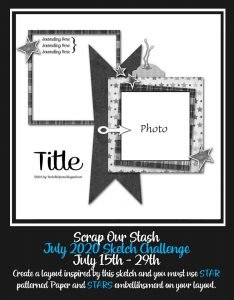 The picture for this layout is a picture of my dog Bella and my friend's dog Mariah. Mariah stayed with us for a week last year while my friend Debbie was on vacation. I got a lot of funny questioning looks from all the dogs. lol … I could just imagine what they were wanting to ask. Mariah was probably wanting to ask … Where did my Mom go? Is she coming back? Is this my new home? And, my two girls were probably wondering … "Who is this dog and why is she here?", "Is this new dog here to stay?", "Are you going to give her our treats?".
The patterned papers used in this layout are from the DCWV "Playful Pets" and the Pebbles "Big Top Dreams" paper pads. For my background, I used a paper from the My Mind's Eye "Now and Then" collection. I matted my photos with a thin 1/16″ mat of vanilla cardstock. I layered the plaid and star patterned papers behind the photos. I matted the background with a stripe paper that was also from the DCWV "Playful Pets" paper pad.
I used some cork thickers for my title which is "FUNNY LOOKS" because of all the funny, questioning looks I got from all the dogs during the week that Mariah was staying with us. I used some ephemera and stickers from the DCWV Playful Pets and the Simple Stories "Life is Ruff" collections including a dog and a fire hydrant. For the star embellishments, I used wood veneer stars in different sizes. A quote that says "Are you fur real???", a tag, a tiny cork sticker shaped like a bone and some acetate flowers finish off this layout.
Here are some closeups of my layout.
[ngg src="galleries" ids="4″ display="basic_thumbnail" thumbnail_crop="0″]
And, here's a full picture of my layout.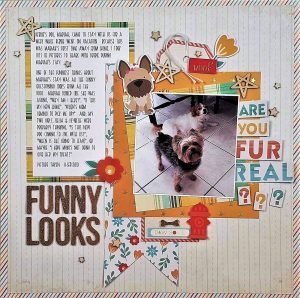 I hope I've inspired you to join in on this month's challenge. For more inspiration, go over to Scrap Our Stash Blog and check out the other Design Team Member layouts for this month's challenges.