Scrap Our Stash | August 2020 | What's My Challenge | Cool in the Pool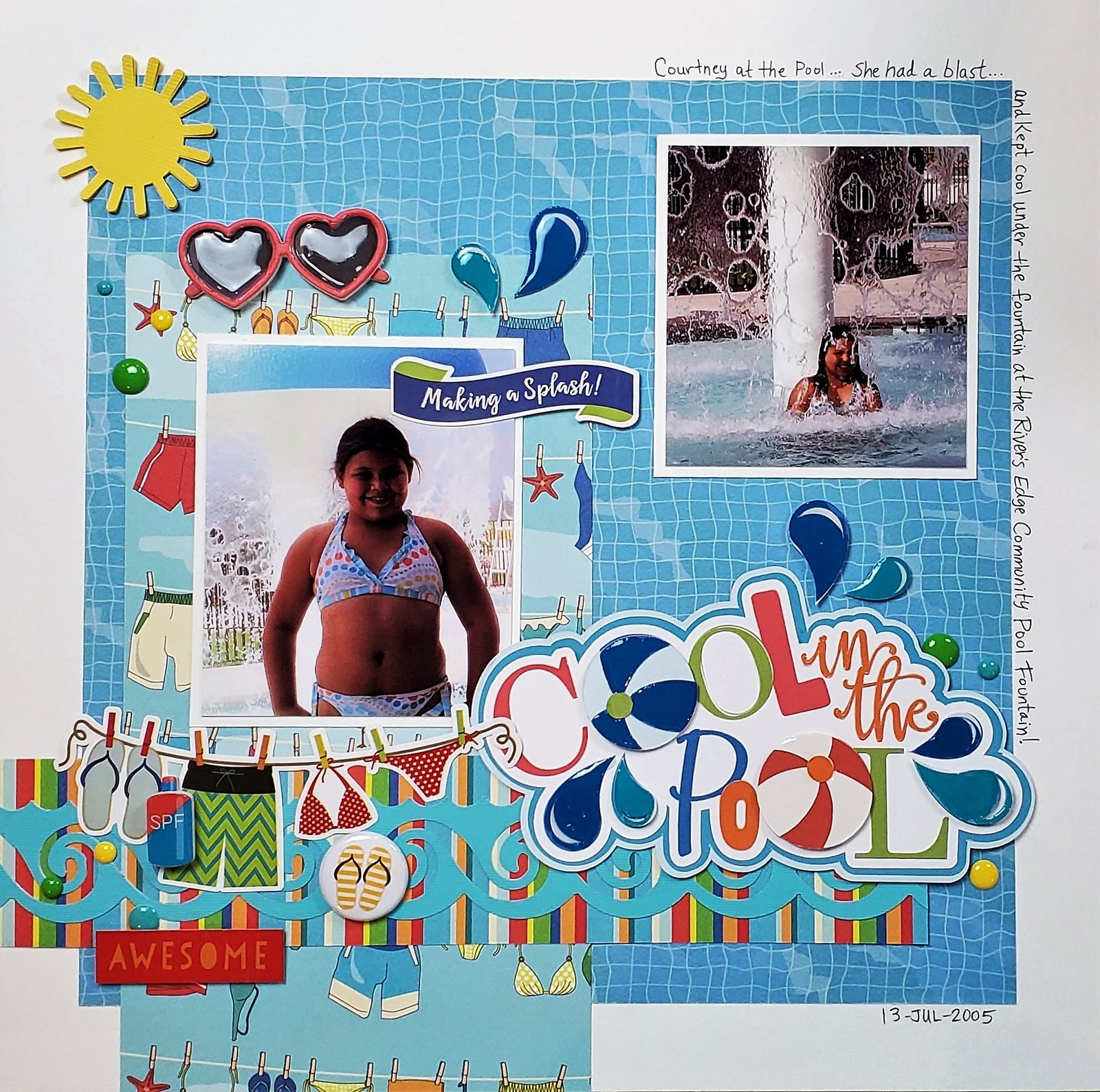 This layout was created for the Scrap Our Stash What's My Challenge for August 2020. For this month's challenge, create a layout documenting a summer activity where you or someone else is trying to keep cool. For example, taking a dip in the pool, a visit to the beach or water park, drinking your favorite frozen drink or lazing under a shade tree. AND, you must include a sun embellishment and/or sun patterned paper. If you are interested in participating in this month's challenge head on over to the Scrap Our Stash Blog.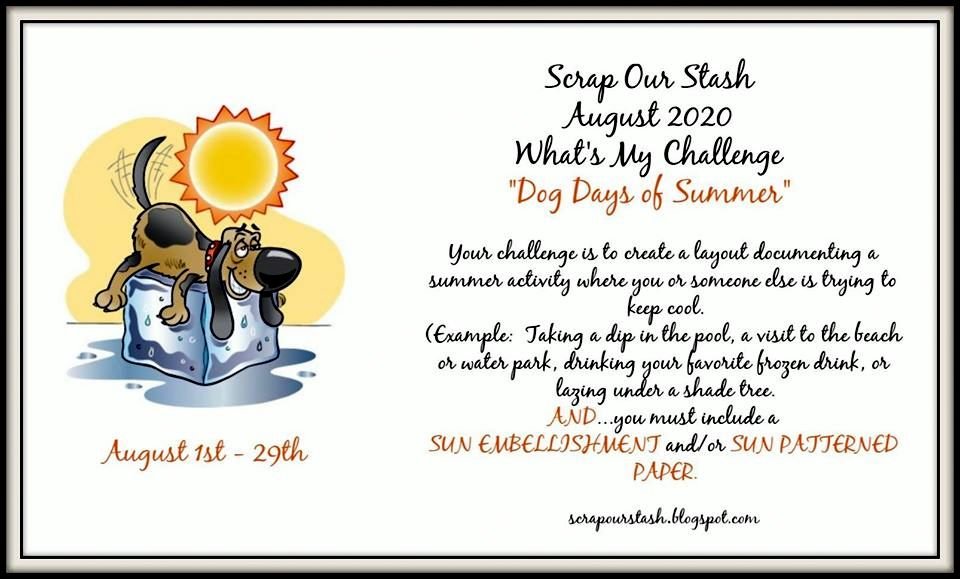 I used a couple of photos that were taken in 2005 when my niece Courtney was visiting us in Texas. These pictures were taken when Courtney was swimming in the community pool in our community at River's Edge and she kept cool under the fountain that was in the pool. For this challenge, I decided to use a Creative Memories sun punch to create the sun embellishment. The papers are from the Carta Bella collection.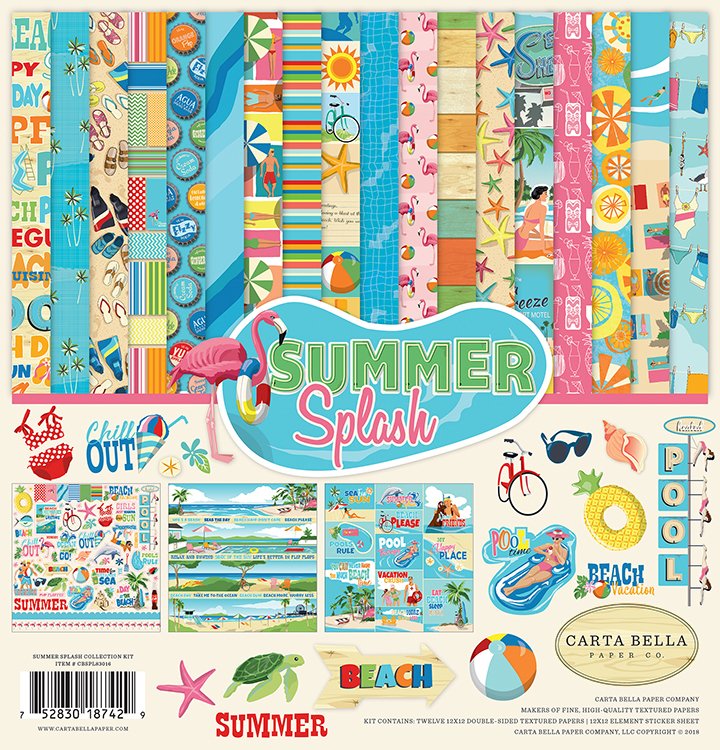 I started my layout using a ultra white felt cardstock from Carta Bella and then I centered a 10″x10″ paper with a pattern that looked like pool water in the center. I gutted the middle of the Carta Bella white cardstock and used that to mat my photos. I used several other papers from the Summer splash collection to create an "L" shaped design on the left side of the layout. One paper was a multi color stripe and the other was a pattern paper with bathing suits hung out to dry. I added a fun border that looked like waves on top of the striped pattern paper. For my title, I used my Cricut and the Print and Cut feature to print out all of the pieces for my title. I layered the pieces to create a fun, dimensional title "Cool in the Pool" with several beach balls and fun splashes of water.
For my embellishments, I used 3-D Pool Themed stickers from The Paper Studio, stickers from the Summer Splash 12×12 sticker sheet and also a few stickers from the Carta Bella Beach Day 12×12 Sticker sheet. A flair button with some white and yellow flip flops, a few enamel dots and some glossy accents on the water splashes, beach balls and the sunglasses … and this layout was completed!!!
Here are some closeups of my layout.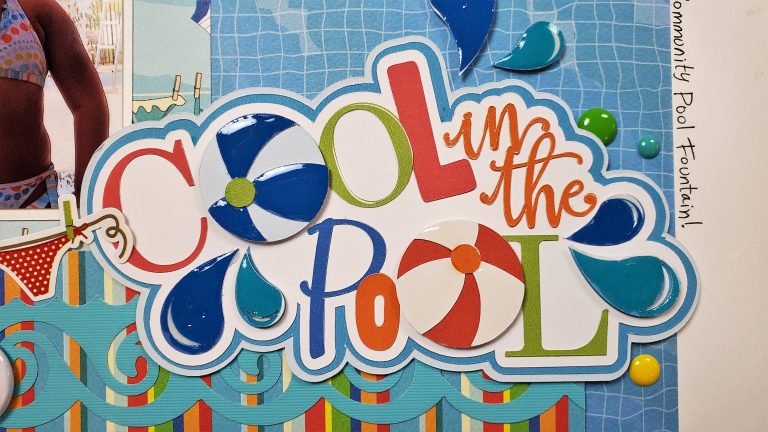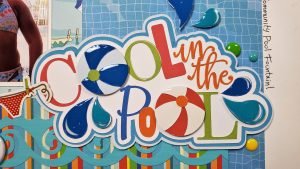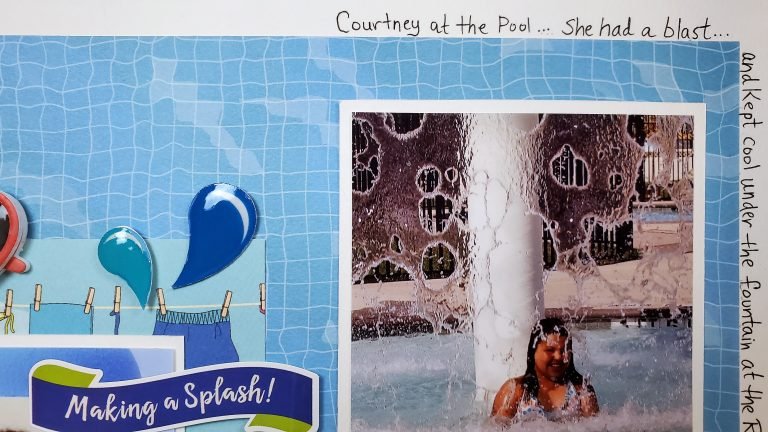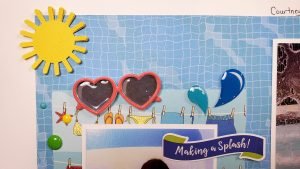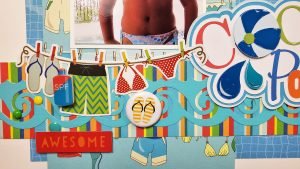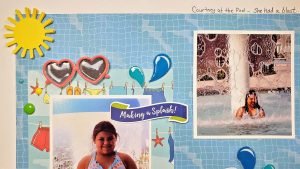 And, here's a full picture of my layout.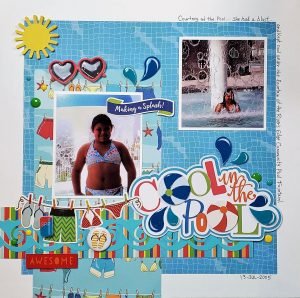 I hope I've inspired you to join in on this month's challenge. For more inspiration, go over to Scrap Our Stash Blog and check out the other Design Team Member layouts for this month's challenges.