Scrap Our Stash | April Sketch Challenge | Playground Fun
This layout was created for the Scrap Our Stash Sketch Challenge for April 2020. If you are interested in participating in this month's challenge head on over to the Scrap Our Stash Blog.
For this challenge, create a layout using the Sketch below. Also, you must use a floral patterned paper and a butterfly on your layout. Upload a link to your layout to Scrap Our Stash Blog by April 29th to be entered into the challenge.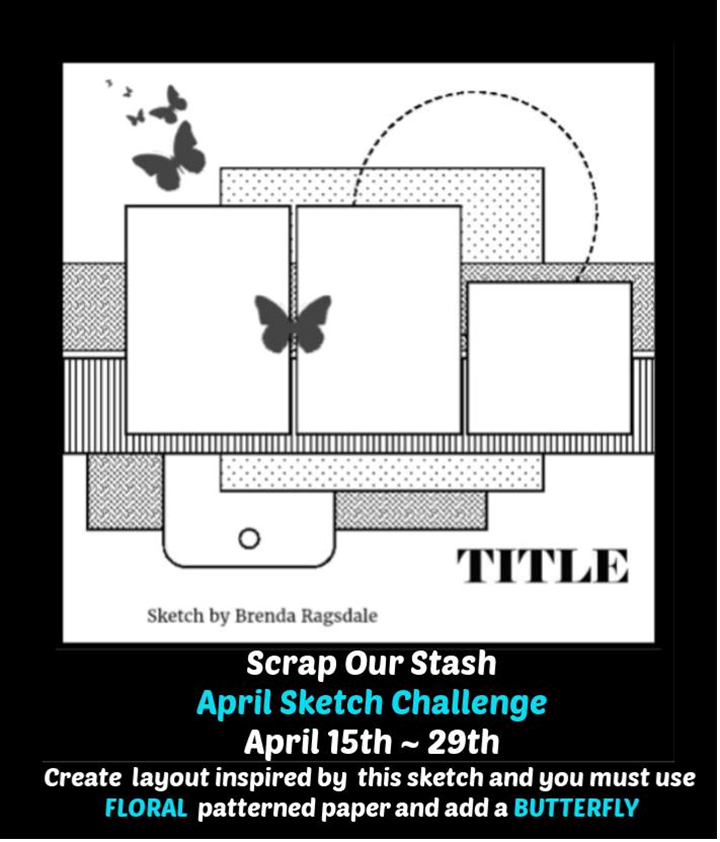 The patterned papers used in this layout are from the Carta Bella Home Again collection. For my background, I used two woodgrain patterned papers … one dark wood and the other a white wood. The pictures were matted with cream cardstock. I layered the floral and stripe patterned paper behind the pictures. I created a circle from some dark blue patterned paper using the Martha Stewart circle cutter.
For my title, I used some wood veneer alpha stickers to spell out "Playground Fun" and added some project life cards with "Remember This" and "Enjoy the Little Things". A wood veneer butterfly, some cork and canvas stickers, a couple of puffy owls and a puffy camera sticker from Shimelle's Little by Little collection and some enamel dots finished off this layout.
Here are some closeups of my layout.
And, here's a full picture of my layout.
I hope I've inspired you to join in on this month's challenge. For more inspiration, go over to Scrap Our Stash Blog and check out the other Design Team Member layouts for this month's challenges.