Scrap Our Stash | May 2020 | What's My Challenge | Hello Cruise Lounge
This layout was created for the Scrap Our Stash What's My Challenge for May 2020 "Tic Tac Toe". For this month's challenge, pick a row, column or diagonal and use selected stash items on your layout. If you are interested in participating in this month's challenge head on over to the Scrap Our Stash Blog.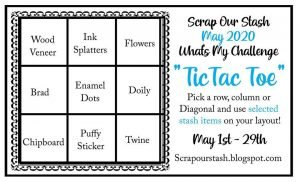 I used a photo from a cruise that I went on last year. This picture was taken when my sister and I were on our way to the lounge for some drinks. I decided to use the "Tic Tac Toe" row that had Flowers, Doily and Twine. The papers that I used for this layout are from the DCWV Classy Copper paper pad. I combined a small die cut that says "hello" and a copper foil thicker to create the title "HELLO CRUISE LOUNGE". I used the Creative Memories Floral Circle punch and one of the copper foil papers and to create a doily. The background of my layout was created using a floral patterned paper with a green polka dot patterned paper as a mat.
The picture was matted with white cardstock, green patterned paper and then a pink polka dot paper to make it stand out from the background.. I also layered several journaling cards from one of the patterned papers under my picture. I cut the doily in half and tucked half under the right side of my layout and the other under the left side. I fussy cut some of the flowers from one of the cut-aparts and popped them up with some foam tape. I used the EK Success Flowers and Leaves punch and the Stampin' Up Build a Blossom punch to create some flowers and leaves.
I punched a hole in the top of one of the journal cards and added some white twine and topped it with a bow that I created with a white and gold metallic twine. I used the EK Success Confetti Butterfly punch to punch some butterflies from the copper foil paper. Some banners I cut from one of the papers with a pink background and tiny words in copper, the butterflies, a flare button and pink enamel dots finish off this layout.
Here are some closeups of my layout.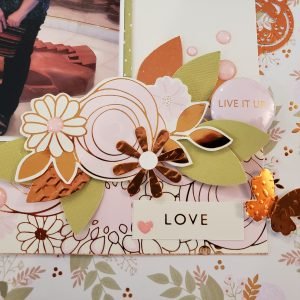 And, here's a full picture of my layout.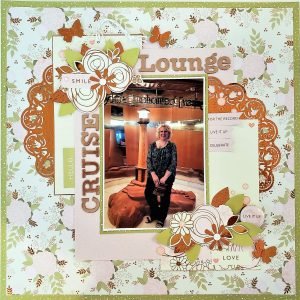 I hope I've inspired you to join in on this month's challenge. For more inspiration, go over to Scrap Our Stash Blog and check out the other Design Team Member layouts for this month's challenges.