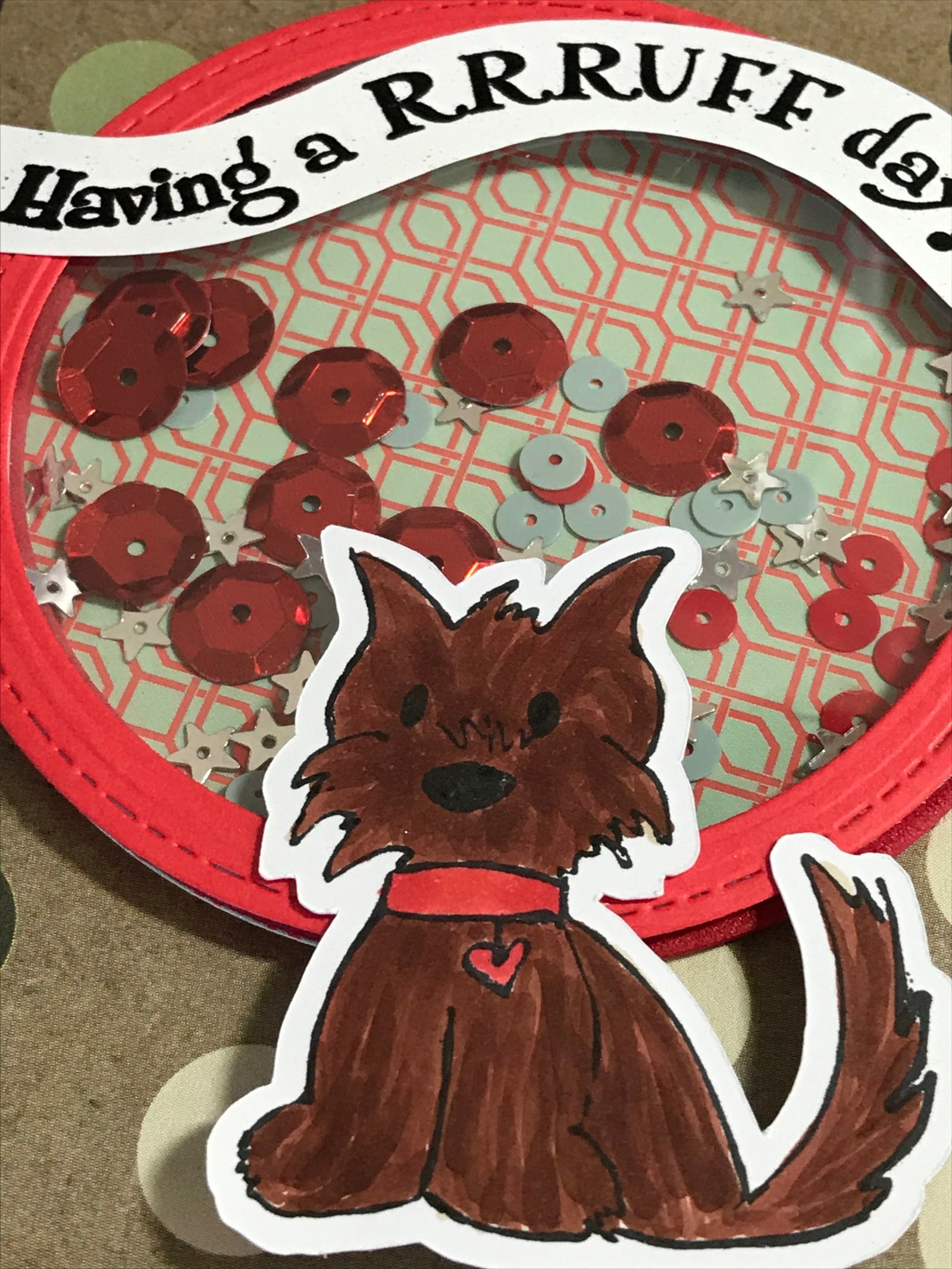 Today's card is inspired by Julie Nutting's stamp set Dog Treats and another stamp set from Inkadinkdo that had the sentiment  "Having a Rrruff Day?".


I stamped the dog with Memento black ink, cut it out with my Brother Scan-n-cut and then colored with copic markers.  I ended up not using the Julie Nutting Doll or the hat and cape that I had cut out.  I think I will use that for another card.

This is only my second shaker card and it was a challenge.  I had to make the shaker part twice as my first attempt turned into a glue nightmare.  I first tried to glue the pieces together with Tombow wet glue and ended up with glue everywhere and all over my acetate window sheet.  The pieces kept sliding around and it made a mess.
I started over and decided to use some double sided adhesive instead of the wet glue.  I first put the double sided adhesive sheet onto some red card stock and also on some red craft foam.  I then die cut the stitched circle frames and this made it a lot easier to adhere things together since the adhesive was already on the die cuts.   I attached the red card stock circle to some acetate and then adhered the red foam circle to the background circle.  Next, I tried to use some glossy accents to adhere the acetate frame to the craft foam but unfortunately, I guess I didn't let that dry long enough because that came apart when I used my ATG gun to put tape on the back of the shaker to attach it to my card base.
Ughhhh!!!! So frustrating!!!!  It's hard to figure out which parts to glue first and I think I could have done things in a different order maybe it would have worked.  But then I remembered watching a YouTube video where someone used foam tape to go around a circle.  The Trick to using foam tape to conform to a round shape is to take the release paper off both sides and then it can be bent to any shape.  I cut the foam tape into thin strips and formed it around the circle, stuck on my acetate frame and finally success!!!!  It was stuck down and wasn't coming off  this time.
Even though it was frustrating, it was fun to make and I learned a lot.  I think next time will be easier.
Supplies Used:
Julie Nutting Dog Treats Stamp Set
Inkadinkado Dogs Stamp Set
Stitched Circle Dies
Paper from Craft Smith Tea Party 6×6 Paper Stack
Copic Markers (Dog E43/E18/E29)  Collar (R24/R29/R27)
Red Sequins / Sequin Mix from Pretty Pink Posh
Memento Tuxedo Black Ink
Ranger Black Embossing Powder
Red Card Stock
Craft Polka Dot Paper (can't remember which paper stack / collection as this was a left over piece from another project)