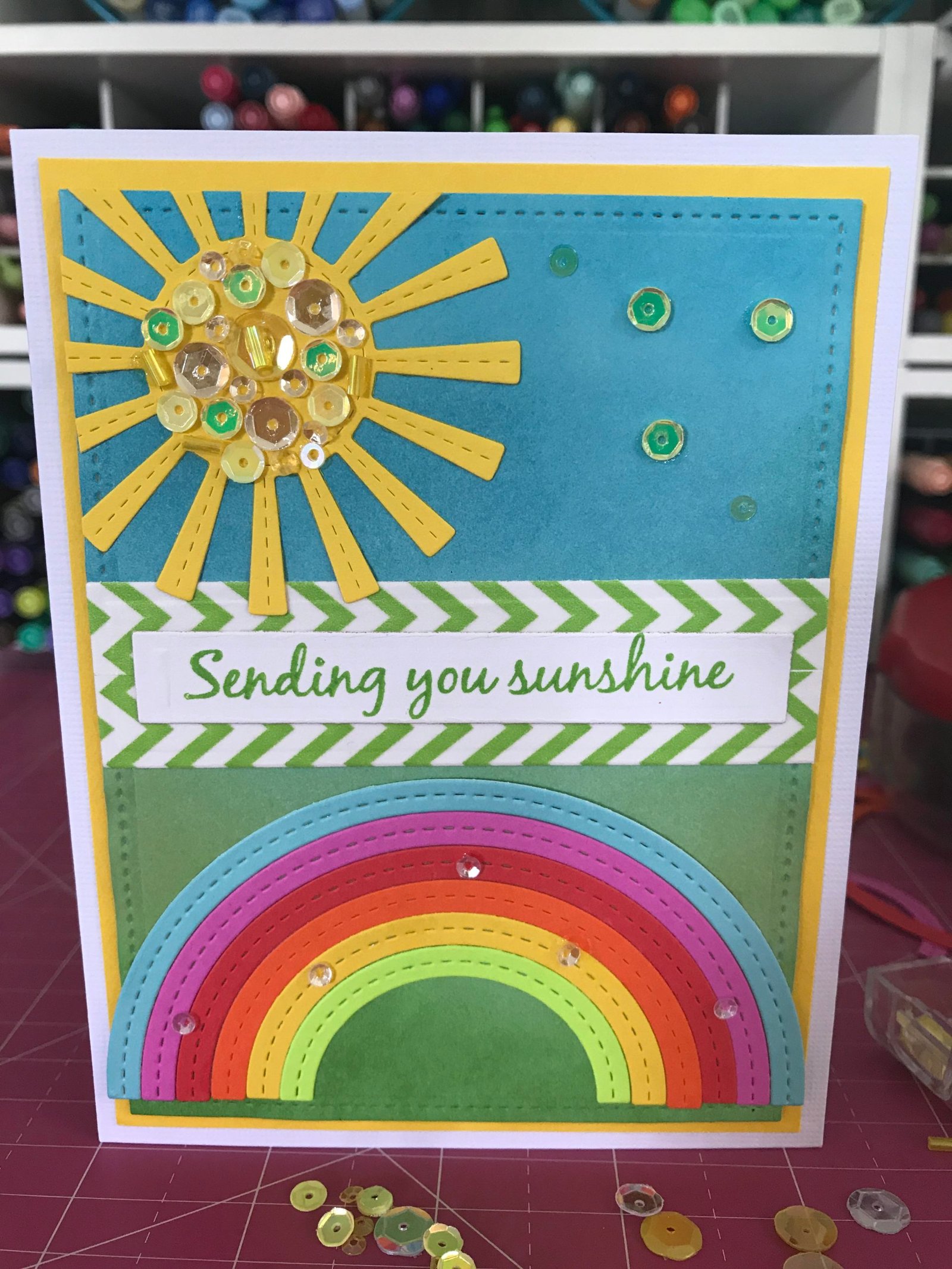 It's been raining all morning and I decided to make a card using my new Sun and Rainbow die set.

I wasn't sure when I purchased the rainbow die if it would cut as a single piece or multiple pieces, so I was super excited to find out that it cut out in six separate pieces. I then decided to cut out the rainbow in red, green, blue, yellow, orange and purple and made this card.


For the background, I took a piece of scrap baby blue card stock and blended 5 different distress inks to create a sky and some grass. The colors were from top to bottom (Mermaid Lagoon, Broken China, Cracked Pistachio, Shabby Shutters and Mowed Lawn). And, I used the "Sending you Sunshine" stamp to add a sentiment to my card.
I wasn't sure that all 6 rainbow pieces would fit on the card, so originally I left off the blue rainbow piece, but then after I layered my panel onto a bright yellow card stock and then onto the white card base, I added the blue piece onto the rainbow which I think helps balance the blue in the sky.
Some yellow beads and also sequins in yellows, golds, silver, clear and white finished off the card.
Supplies Used:
Rainbow and Sun Dies
Distress Inks (Mermaid Lagoon, Broken China, Cracked Pistachio, Shabby Shutters, Mowed Lawn)
Stamp Set with "Sending you Sunshine" Sentiment
Sequin Mix from Simon Says Stamp Card Kit (March 2016)
Green and White Chevron Washi Tapes