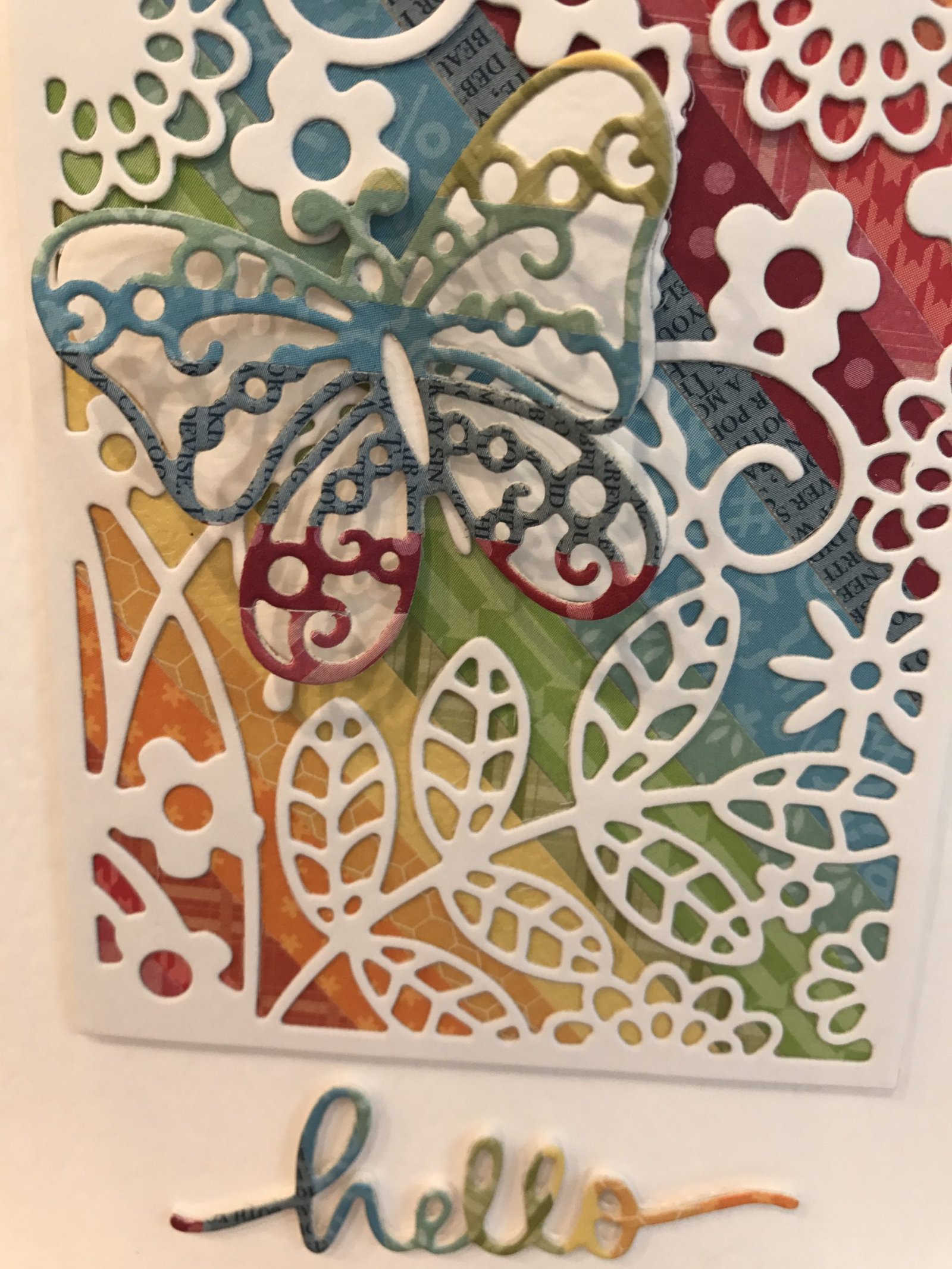 It's Day 3 of the Rainbow Maker Class at OnlineCardClasses.com.  The lessons today were all about die cutting rainbows.  The technique that I tried out for this card was to cut thin strips of paper to create a custom rainbow patterned paper.
This was a super fun technique and you can use up your scraps and make some really cool paper.  I cut thin strips of paper in various sizes.  I decided to use patterned paper rather than just plain cardstock to add interest to the paper I was creating.

I cut a piece of some double sided adhesive to about 5″ x 3 1/4″ and then applied it to some white cardstock.  After taking off the release paper to reveal the sticky side, I started laying down strips of paper in a rainbow order, alternating the width of the strips until the adhesive was totally covered.
Next step was to use a really pretty background die that had florals and a large butterfly to cut out a die cut using white card stock.  My plan was to put the rainbow paper behind this delicate lacy looking background.
I cut out a butterfly shadow from some blue patterned paper and also cut out a butterfly overlay in white cardstock.  I decided I didn't like the blue butterfly and decided I needed more rainbow on my card, so I cut out another butterfly, this time with a white shadow and the butterfly overlay in some more of my rainbow paper.
I also decided to try cutting out the Hello sentiment from the rainbow paper.  It was so cool to see the different effects in the die cuts depending on where the die was placed on the rainbow paper.
I created a custom card base (4 1/4″ x 7″) using some Hammered White Cardstock and popped up the Butterfly Floral Background using some foam tape.
For the sentiment, I cut out 3 more "Hello" die cuts using some of the Hammered White cardstock.  I layered the 3 white die cuts and then put the rainbow Hello on top creating extra dimension.
Supplies Used:
Spellbinders Shapeabilities Les Papillions Dies
Sentiments Die Set (With Love, Congratulations, Hello, Thank You)
Butterfly Floral Background Die
Create And Craft Hammered White Card 300GSM
Patterned Paper (Stampin' Up, Crate Paper, Echo Park, Doodlebug Designs)
Elizabeth Craft Clear Double-Sided Adhesive Sheets