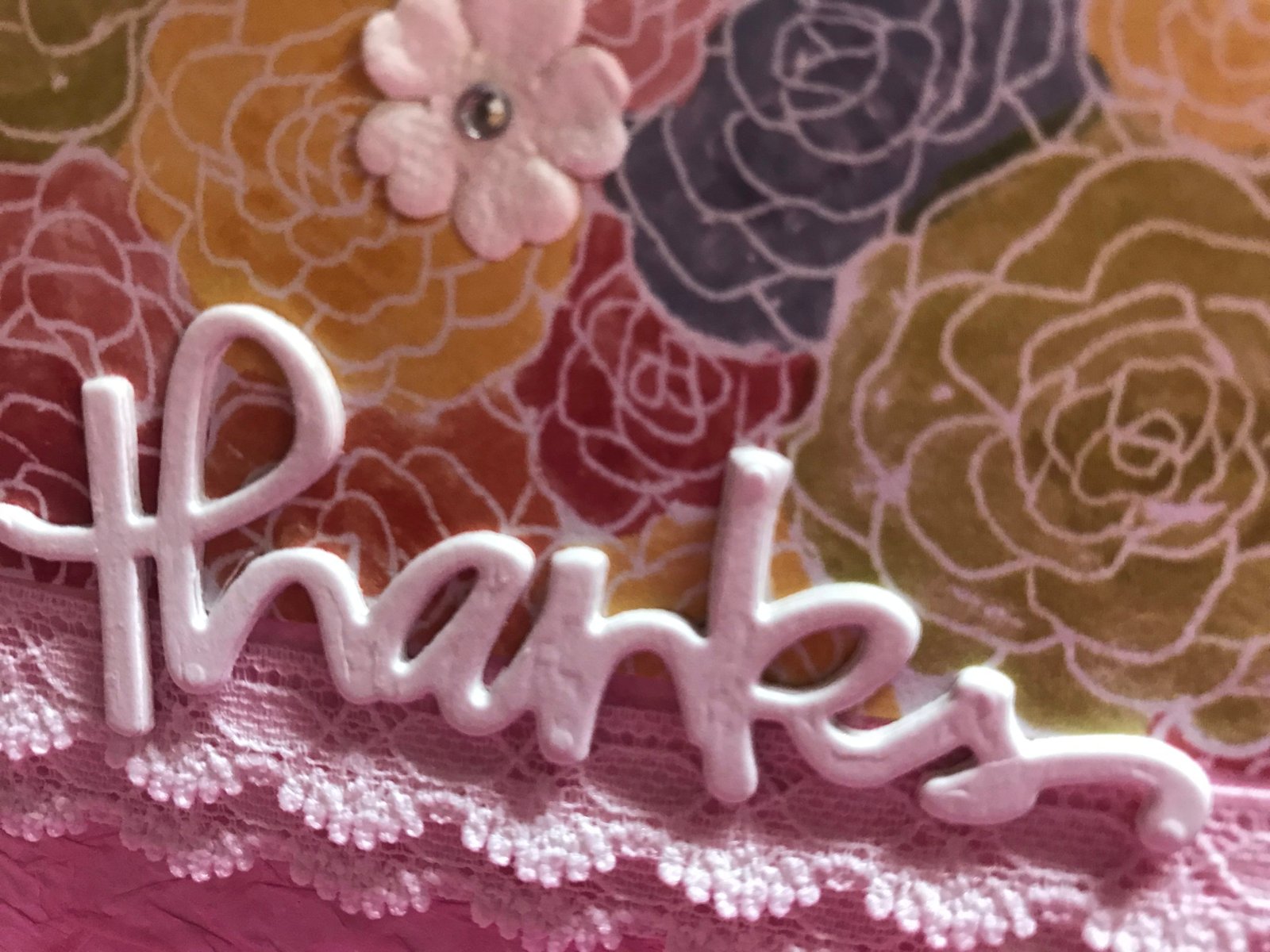 For this card, my inspiration was the tissue paper from a gift I received a few days ago.  The gift bag had pink, yellow, and green pastel tissue.  Often I will try to save ribbon, bows, wrapping paper and tissue, but this time the tissue was just too crumpled to reuse for gift giving.
So, I decided to use some of the crumpled tissue to make a card.  I took a pink piece of tissue, crumpled it even more and then glued it down to a white piece of card stock using Tombow Aqua wet glue.  Next, I cut out a rectangle from the tissue using the largest rectangle die from the Spellbinders A2 Mating Basics B die set.


Because the tissue had so much texture, I decided to play that texture up by using pieces of lace that I recently purchased from CreateAndCraft.com.  I layered multiple pieces of lace on the top and bottom of a scrap piece of patterned floral paper.

The Thanks sentiment was cut out 3 times from some hammered white card stock (also from CreateAndCraft).  I have to say that I am so impressed with the Hammered Cardstock.  It is super thick and has a really cool texture. I used it for both the card base and the sentiment.
Supplies Used:
Spellbinders A2 Mating Basics B Die Set
Little Yellow Bicycle Word Die Set (Tuesday Morning's)
Create and Craft 25 Cream 25 White US Letter Size Hammered Card 111lb Pk 50 (CreateAndCraft.com)
Mini Paper Flowers (Michael's $1.50 Bin)
Dreamees Luxury Lace Collection – 33 ft (CreateAndCraft.com)
Tombow Aqua Mono Liquid Glue
Glossy Accents
A note about CreateAndCraft.com.  I did get some really amazing deals from CreateAndCraft.com.  However, I was also very disappointed with several things.  First, shipping can take weeks or even months … and, sometimes, things are mailed from the U.K., so that could explain the long shipping wait.
Second, if you place an order, there is no guarantee that you will get what you ordered.  Of the 3 orders I have placed with CreateAndCraft, 90% of the items from my first order never arrived and 80% of the items from my 2nd order were canceled.
There customer service is responsive, however, explanations on why things were never shipped or were canceled don't make sense and are not very detailed.  They said my first order was lost in dispatch and after waiting for over a month, they are giving me a refund for the lost order.  I saw many of the items from my canceled 2nd order still on the CreateAndCraft.com website and when I asked about why my order was canceled, I was told that I could order it again and they would honor the original sales prices.  When I reordered, I did receive the order and the items were amazing (including the lace and the hammered card stock).
But I just wanted to warn you that if you do order from CreateAndCraft.com, you may be disappointed.  There were a number of items from my first order that I was very excited about and it was super disappointing to find out I wouldn't be getting them.  The items from my first order are no longer on CreateAndCraft website, so I wasn't able to reorder them.
When CreateAndCraft has things on sale, what you get for the prices is amazing.  So, I will probably order from them again, but at least I will know up front that there is a possibility that I won't get what I order.