CalvinBall 2021| Layout #9 | Mariah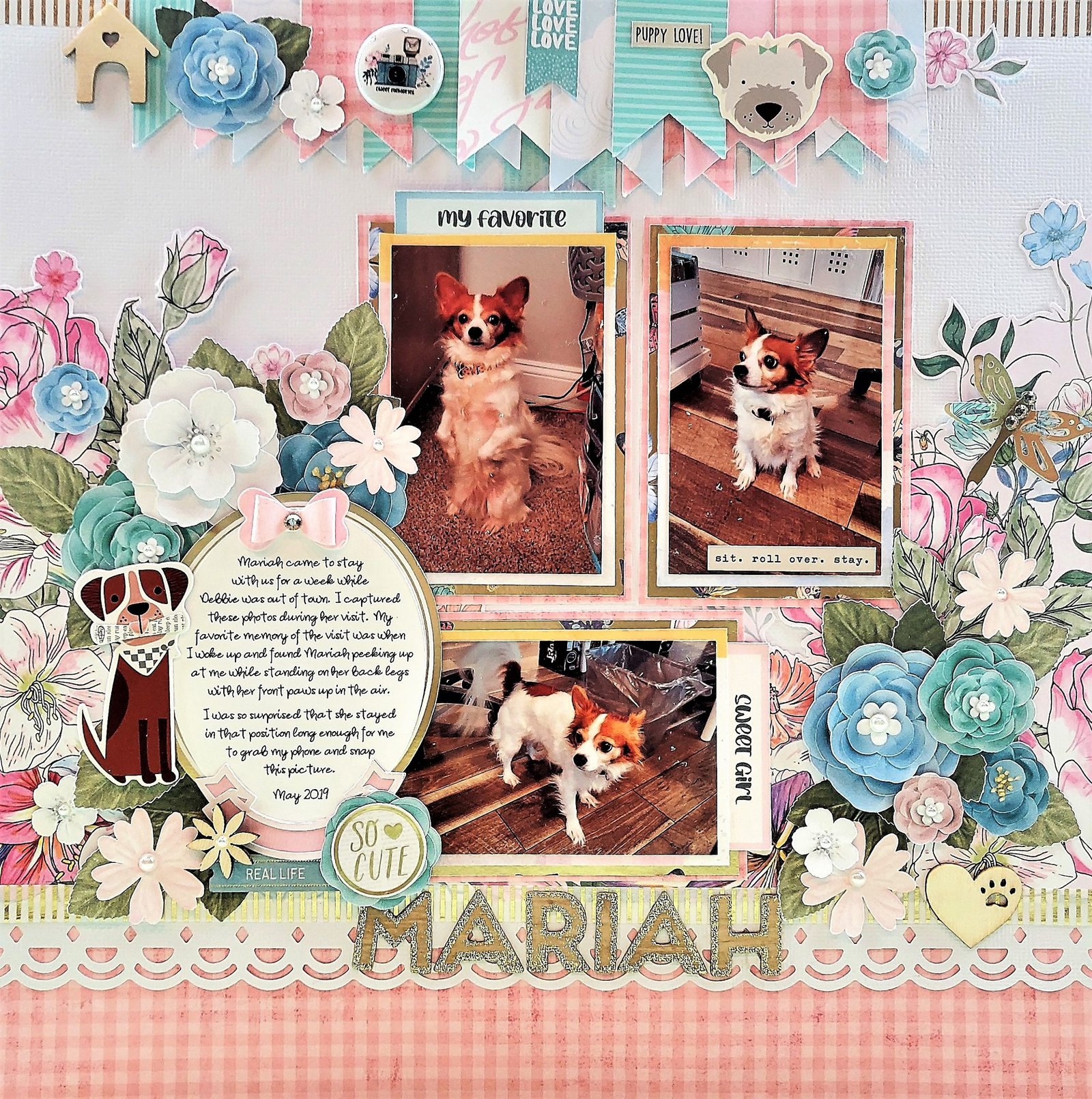 This layout was created for the CalvinBall 2021 Challenge on Day 23-25. CalvinBall is free to join and you can join anytime in the month of March. If you are interested in participating in this challenge head on over to the Scrap Happy for more information. https://scraphappy.org/calvinball/ #calvinBall2021 #scrapHappy
I started this layout on March 23th but didn't complete until March 25th, so the total score was 31 using the rules from March 25th. I created a layout which was one point and then received one point for using each of the following: the color green, cut file, three of a kind, die cuts, washi tape, heart, label, color pink, date your layout, wood veneer, flower, banner, 3 pattern papers, tidy your space, bling, foil, journaling, circle, gingham, camera, finish an unfinished project, fussy cutting, bow, glitter and dragonfly. I also earned 5 additional for creating this blog, a scrapbook process video and for sharing this on social media.
For this layout, I used a picture of my friend's dog Mariah. These pictures were taken while Mariah was staying with us for a week in 2020.
My inspiration for this layout was a paper from the Craft Smart Garden Dreams 12×12 paper pad. I fussy cut out a floral background and then layered some pink gingham paper at the bottom along with a border strip and some gold striped washi tape.
I matted my picture with a Pink Fresh Studio patterned paper, a butterfly/gold pattern paper from the Garden Dreams paper pad, and also the pink gingham paper. My title was created with the Marquee Thickers which is a chipboard alpha thicker that looks like woodgrain with a gold glitter border. The border strip was created with the Creative Memories Diamond Arches border punch.
To embellish my layout, I then printed out some flowers in white, pink, blue and aqua and some leaves from DigitalScrapbook.com (previously called PixelScrapper) and layered them on top of the floral background. I added some tabs, an oval cut-a-part with journaling, a die cut of a dog, and a bow. I had torn my background paper and layered more of the pink gingham paper underneath but I made the tear too large and then damaged the background when I accidentally dropped something with adhesive that got stuck. I ended up creating a large banner at the top of the layout to cover up my mistakes. I also added a flair button, some wood veneer. I finished off this layout by adding pearls to all of the flowers and crystal gems to the bow and the dragonfly.
Here are some closeups of my layout.
And, here's a full picture of my layout.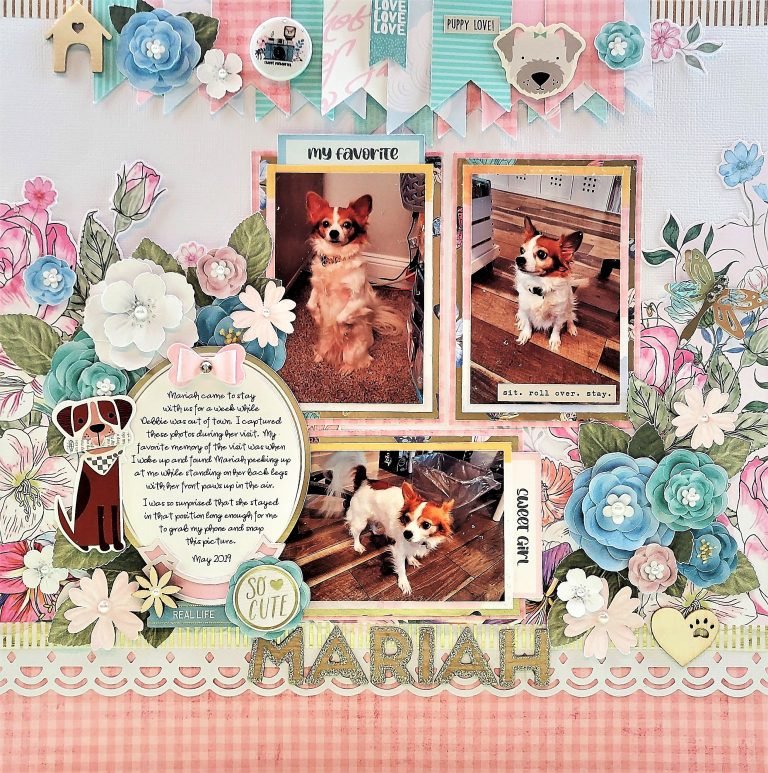 I hope I've inspired you to join in with the CalvinBall 2021 challenge.