CalvinBall 2021 | Layout #10 | Say Cheese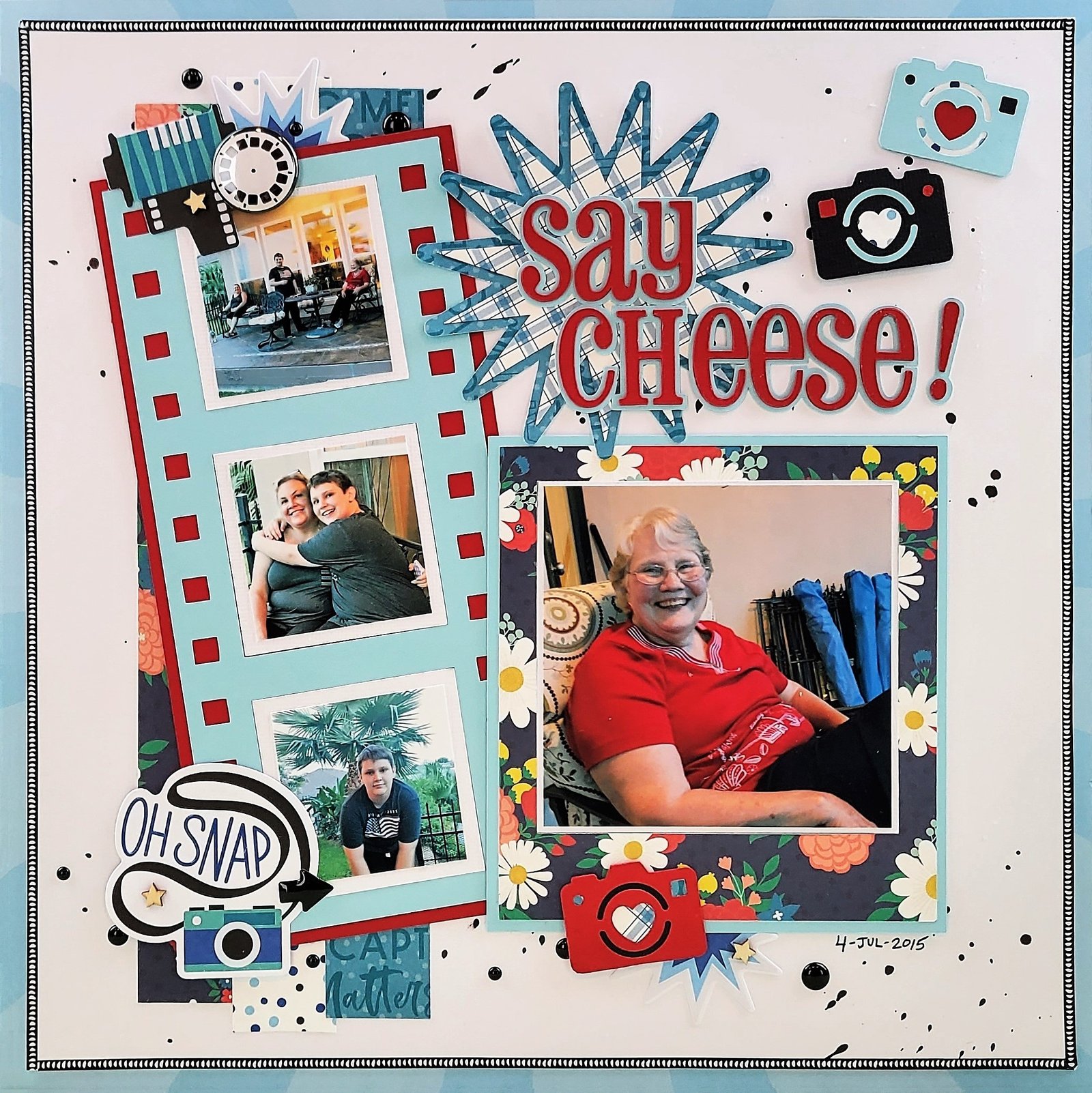 This layout was created for the CalvinBall 2021 Challenge on Day 27. CalvinBall is free to join and you can join anytime in the month of March. If you are interested in participating in this challenge head on over to the Scrap Happy for more information. https://scraphappy.org/calvinball/ #calvinBall2021 #scrapHappy
On Day 27 of Calvinball, I completed another layout which gave me one point for the layout and then I received one point for using each of the following: a star, color green, cut file, enamel dots, three of a kind, die cuts, washi tape, handwriting, heart, date your layout, wood veneer, flower, 3 pattern papers, tidy your space, arrow, spray/mist/ink splatter, puffy sticker, plaid/gingham, camera, button, foam tape, punch, digital template (Cricut), frames, double mat. I also earned 5 additional for creating this blog, a scrapbook process video and for sharing this on social media.
For this layout, I used a picture of my Mom and some smaller pictures with my sister, my Mom and my nephew that were taken on July 4th, 2015.
My inspiration for this layout was a layout from Cricut Design Space. I used papers from the Creative Memories Picture This collection and a floral paper from Echo Park summer collection and cardstock in red, light blue and white.
I wanted to bring in more black into my layout because the embellishments from the Picture This collection had black and wanted to incorporate more of that into other elements of the layout. So, I used Dylusions black ink spray to create splatters on the background. I used a black and white washi around the layout to create a border and then matted the layout using a tone-on-tone blue sunburst paper from Picture This.
I cut out all the pieces for this layout using my Cricut Maker. I matted my picture with white cardstock, the floral paper and a light blue cardstock. My title was created with the Cricut and I cut out the red letters 3 times and then layered them to create a faux chipboard.
I replaced the one large camera form the Cricut design with 3 smaller cameras that I created using the Creative Memories Camera Love punch. I finished off this layout by adding a viewfinder flair button, some wood veneer stars and black enamel dots.
Here are some closeups of my layout.
And, here's a full picture of my layout.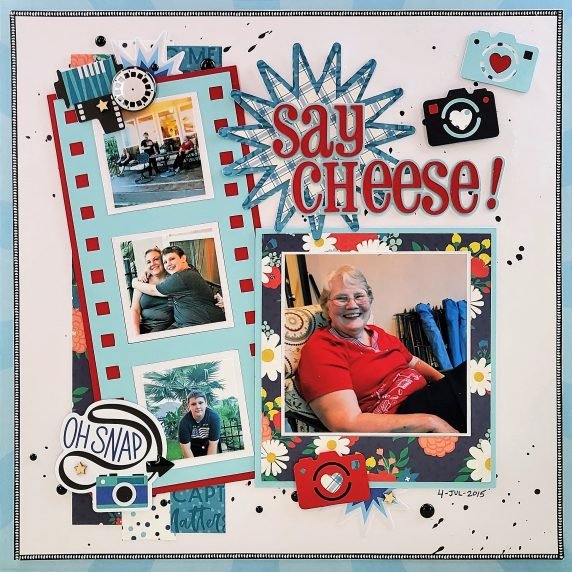 I hope I've inspired you to join in with the CalvinBall 2021 challenge.