CalvinBall 2021| Layout #8 | Butterfly Paradise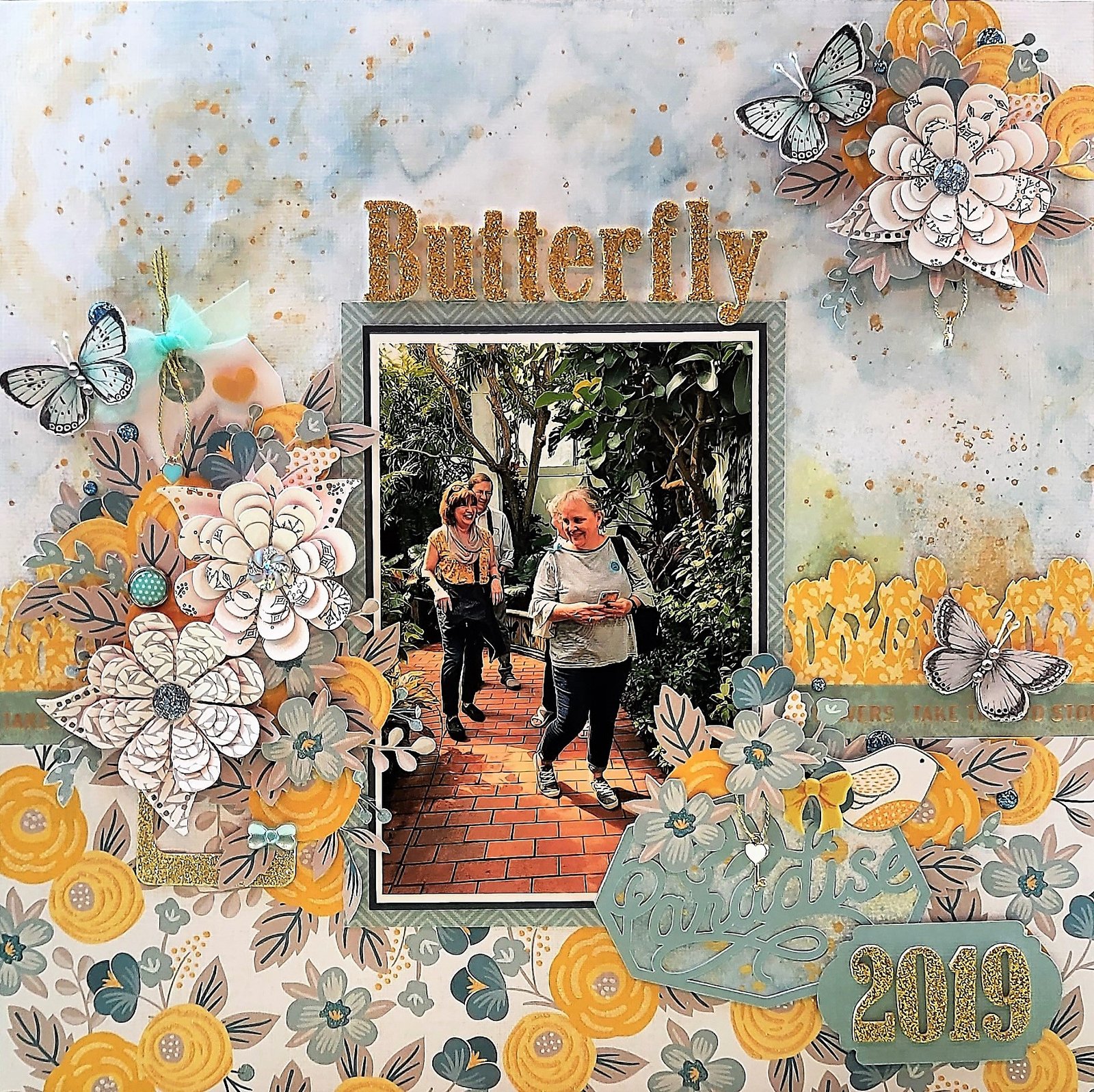 This layout was created for the CalvinBall 2021 Challenge on Day 15-19. CalvinBall is free to join and you can join anytime in the month of March. If you are interested in participating in this challenge head on over to the Scrap Happy for more information. https://scraphappy.org/calvinball/ #calvinBall2021 #scrapHappy
I started this layout on March 15th but didn't complete until March 19th, so the total score was 37 using the rules from March 19th. I created a layout which was one point and then received one point for using each of the following: using a star, color green, cut file, enamel dots, three of a kind, die cuts, washi tape, heart, label, date your layout, ribbon, tag, flower, 3 pattern papers, create your own background, tidy your space, spray/mist/splatter, puffy sticker, bling, watercolor, multi-font title, bird, finish an unfinished project, butterflies, fussy cutting, frame, bow, chipboard, glitter/glitter glue and a brad. I also earned 5 additional for creating this blog, a scrapbook process video and for sharing this on social media.
For this layout, I used a picture of my sister which was taken in January 2019 while we were visiting the Butterfly Conservatory in Key West, Florida.
My inspiration for this layout were some beautiful handmade flowers from Joanne Bartell, a mint green chipboard alpha and a base page that was in my stash. The base page was created using papers for this layout are from the Park Lane Sunshine and Rain Collection pad and the Tulip border punch from Creative Memories.
I used a white cardstock and created a watercolor background using Shimmerz Deep Blue Sea Vibez, Shimmerz Refresh Mint Creameez , and Bumblebee Shimmerz Paint. I add more gold using Liquid Gold and Heidi Swapp gold Color Shine.
I matted my picture with a navy blue cardstock and a teal patterned paper. For my title, I used some Sticko gold glitter foam alphas to spell out "Butterfly" and to finish the title "Butterfly Paradise", I used a cut file from Cricut.
To embellish my layout, I used 3 of Joanne's flowers and also fussy cut flowers from one of the Park Lane Sunshine and Rain papers and butterflies from a Cocoa Vanilla paper. I added a tag, some ribbon, gold twine, and enamel charms and then embellished the butterflies with some light blue flower stamen and Honey Bee clear Gems. I finished off this layout by adding a gold bow puffy sticker, a teal polka dot brad, a blue resin bow, a gold heart from Bramble Fox and some blue glitter enamel dots from Gina Marie Designs.
Here are some closeups of my layout.
And, here's a full picture of my layout.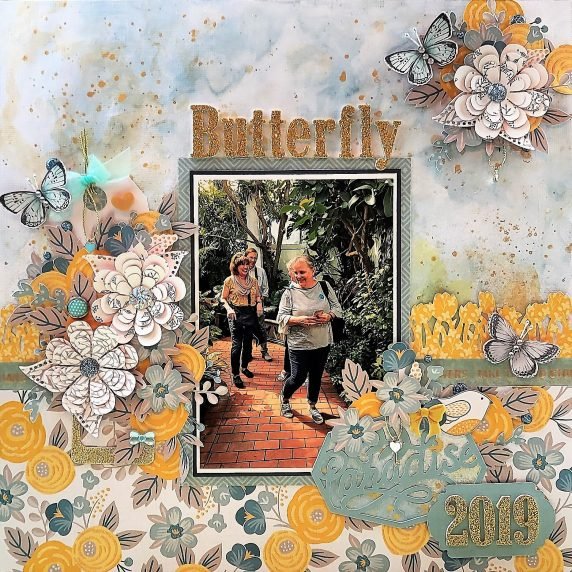 I hope I've inspired you to join in with the CalvinBall 2021 challenge.