CalvinBall 2021| Layout #7 | Dog Days of Summer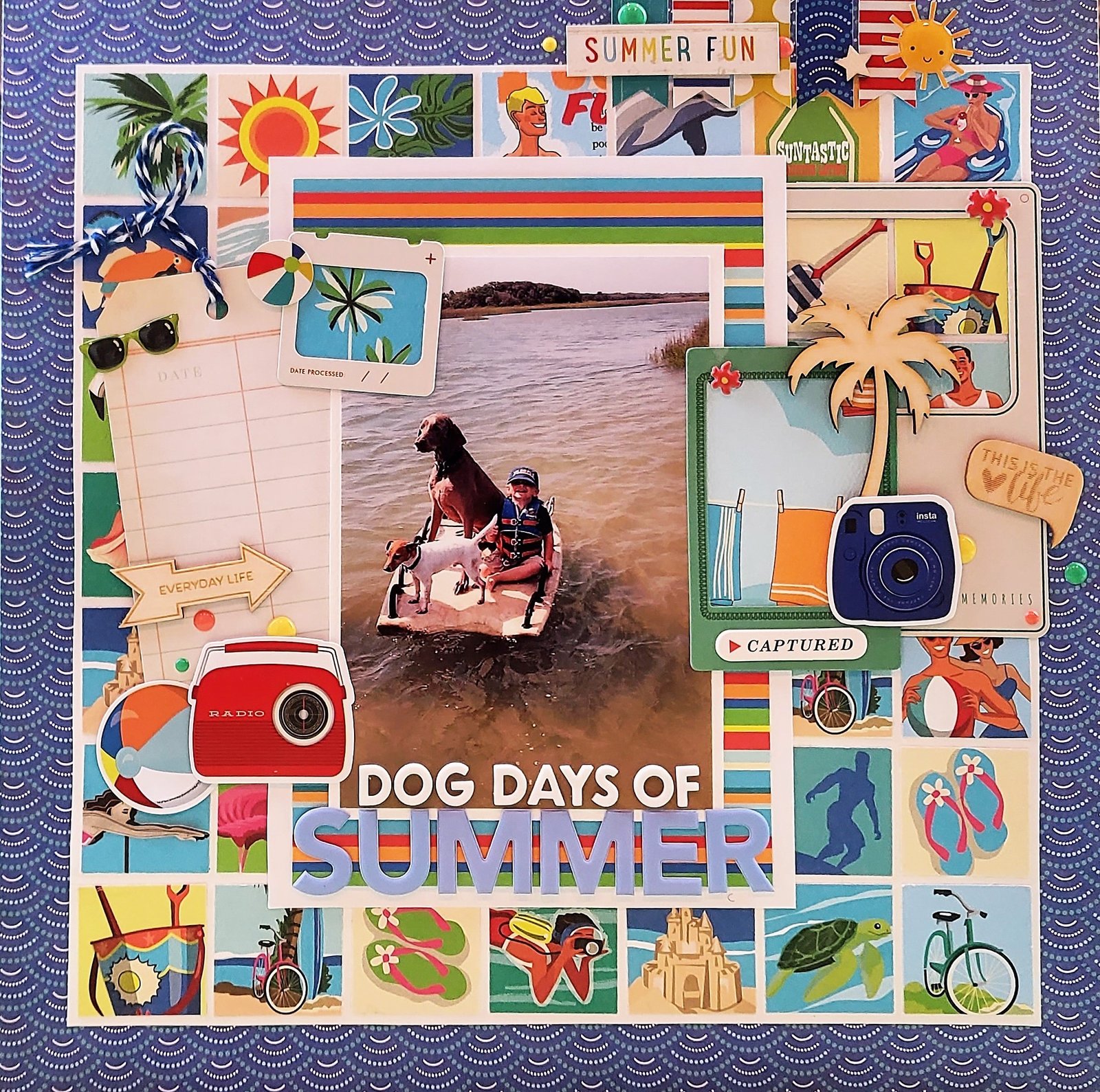 This layout was created for the CalvinBall 2021 Challenge on Day 13. CalvinBall is free to join and you can join anytime in the month of March. If you are interested in participating in this challenge head on over to the Scrap Happy for more information. https://scraphappy.org/calvinball/ #calvinBall2021 #scrapHappy
This Layout earned a total of 32 points. I created a layout which was one point and then received one point for using each of the following: using a star, color green, enamel dots, three of a kind, die cuts, handwriting, heart, color pink, date your layout, wood veneer, tag, flower, banner, 3 pattern papers, create your own background, tidy your space, arrow, puffy sticker, multi-font title, tropical, staples, finish an unfinished project, frame, chipboard, tree and a speech bubble. I also earned 5 additional for creating this blog, a scrapbook process video and for sharing this on social media.
I decided to work on another unfinished project, so I started with a layout that was partially completed. For this layout, I used a picture of my nephew with his two dogs on a raft.
I started this layout in 2020 using papers from the Bella Blvd Summer Splash collection kit. I used a 3/8 square punch from Stampin Up to punch out little images from one of the papers and then created a grid background on some white card stock. I matted my background onto a blue geometric patterned paper that reminded me of the water. I matted my picture with white cardstock and striped pattern paper.
For my title, I used a white foam thicker from Paige Evans Pick Me Up and a larger blue puffy alpha from Hip Kit Club Awesome Life to spell out my title "Dog Days of Summer".
I add a large tag to one side of the layout and several frames to the right side to use as a base for my clusters. I added some blue & white twine to the tag and used some staples to attach the twine to my layout. I also layered a bunch of stickers on top of the tag and the frames including a beach ball, camera and radio. I also created a small cluster to the top of the layout by adding banners and a word sticker that says "Summer Fun".
To embellish my layout, I used stickers from the Carta Bella Beach Day 12×12 sticker sheet. To finish off this layout, I added some wood veneer (a star, an arrow, a tree and a speech bubble), a flower puffy stickers, a sun and some sunglasses from Doodlebug enamel shapes and some Enamel Dots in yellow, orange and green.
Here are some closeups of my layout.
And, here's a full picture of my layout.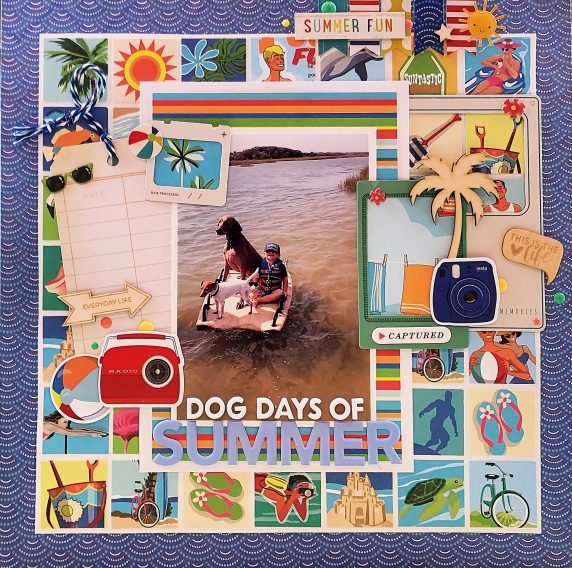 I hope I've inspired you to join in with the CalvinBall 2021 challenge.