CalvinBall 2021| Layout #6 | Summer Dolls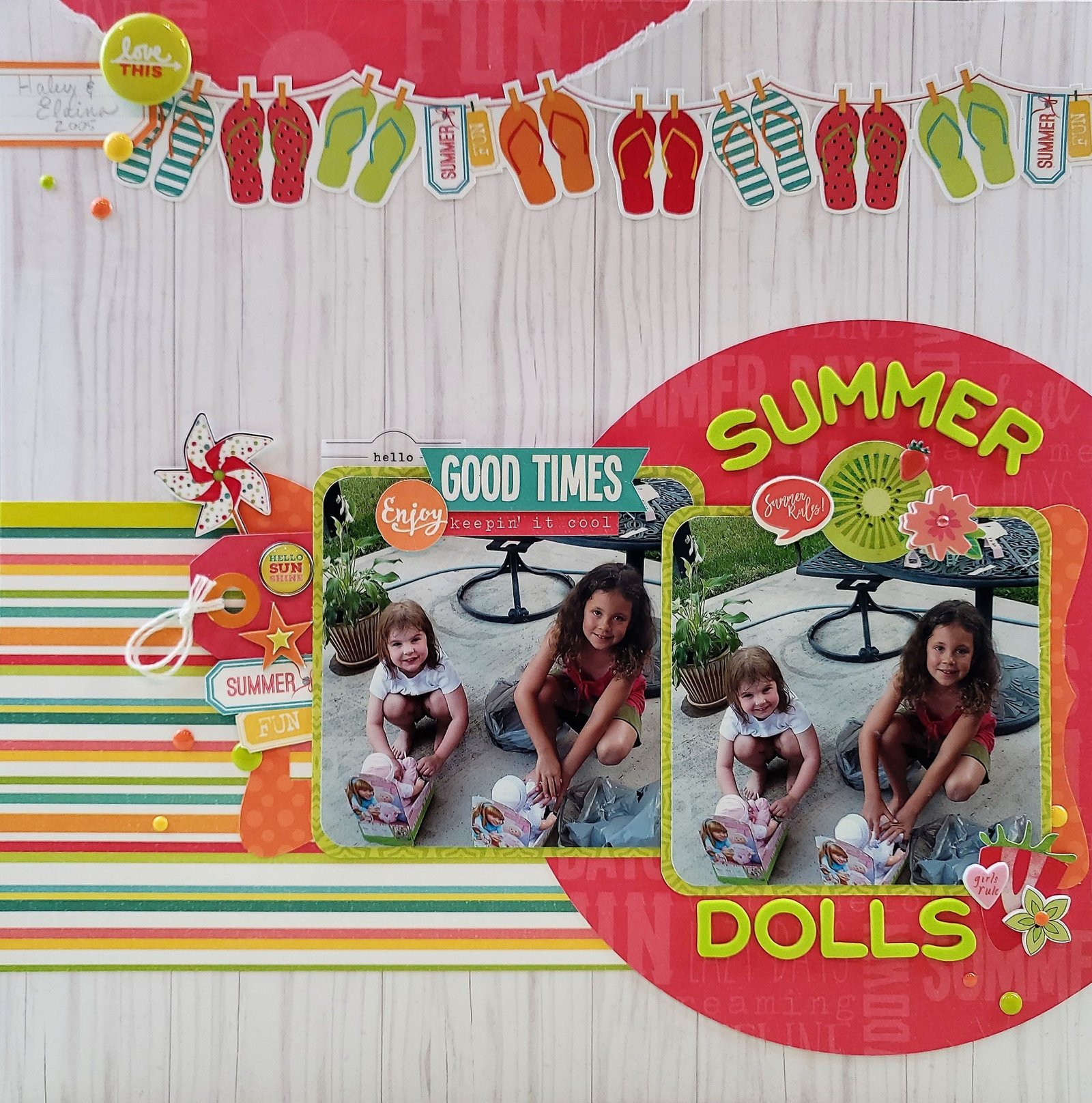 This layout was created for the CalvinBall 2021 Challenge on Day 12. CalvinBall is free to join and you can join anytime in the month of March. If you are interested in participating in this challenge head on over to the Scrap Happy for more information. https://scraphappy.org/calvinball/ #calvinBall2021 #scrapHappy
This Layout earned a total of 34 points. I created a layout which was one point and then received one point for using each of the following: using a star, color green, enamel dots, three of a kind, die cuts, washi tape, handwriting, tearing paper, heart, label, color pink, date your layout, wood veneer, tag, flower, banner, 3 pattern papers, vellum, tidy your space, arrow, puffy sticker, bling, finish an unfinished project, fussy cutting, metal, frame, chipboard and a speech bubble. I also earned 5 additional for creating this blog, a scrapbook process video and for sharing this on social media.
I decided to finish a project, so I started with a layout that I had in my pile of unfinished projects. For this layout, I used a picture of my niece and great niece playing with their new dolls in the backyard of our house in Texas. This picture was taken in 2005.
I started this layout in 2019 using papers from the Photo Play Summer Daydreams collection kit. I used a white woodgrain paper as my background. I layered a 5″ striped pattern paper and a large circle from the Photo Play collection onto the background and then used a lime green paper to mat my pictures. For my title, I used a lime green foam thicker to spell out "Summer Dolls". I tore the paper at the top and added more of the pink pattern paper with the summer words underneath. I added a flip flop banner across the top of the layout that came from the 12×12 sticker sheet.
To embellish my layout, I used an orange frame from Echo Park I'd Rather be Crafting ephemera, a pink and orange tag. I used quite a few stickers from the Photo Play Summer Daydreams 12×12 including the kiwi, strawberry, a pinwheel and the "Good Times" banner. To finish off this layout, I added a flare button, a 3 dimensional flower with bling, a chipboard star, a brad and a speech bubble chipboard piece from the Echo Park Best Summer Ever Brad pack, a wood veener lime green flower, a vellum label with the word "Hello" and some Enamel Dots in yellow, orange and green and also a few puffy stickers.
Here are some closeups of my layout.
And, here's a full picture of my layout.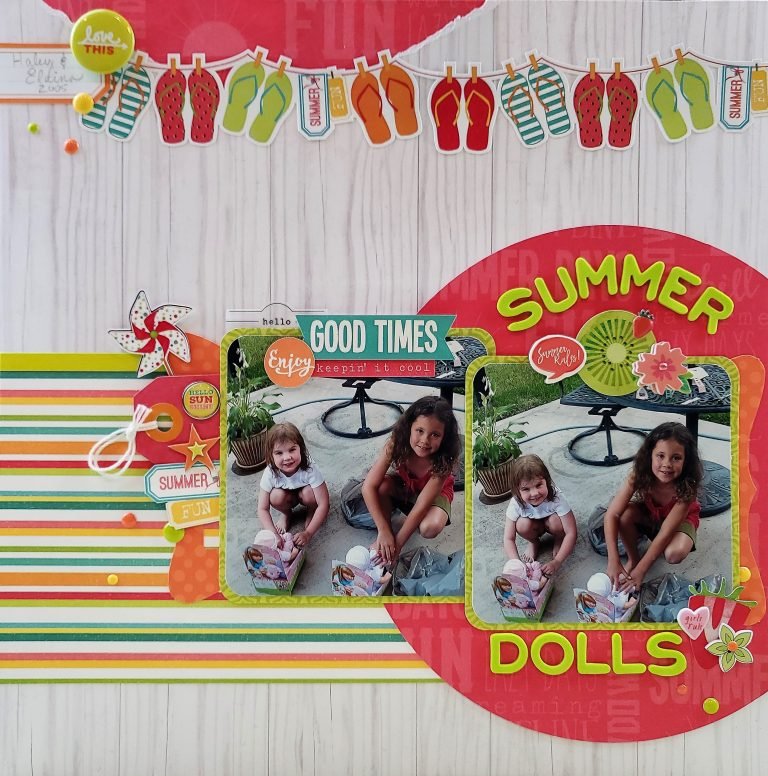 I hope I've inspired you to join in with the CalvinBall 2021 challenge.