CalvinBall 2021| Layout #3 | Seriously Cute
This layout was created for the CalvinBall 2021 Challenge on Day 6. CalvinBall is free to join and you can join anytime in the month of March. If you are interested in participating in this challenge head on over to the Scrap Happy for more information. https://scraphappy.org/calvinball/ #calvinBall2021 #scrapHappy
This Layout earned a total of 25 points. I created a layout (1), used a star (1), color green (1), enamel dots (1), three of a kind (1), die cuts (1), washi tape (1), handwriting (1), tearing paper (1), hearts (1), pink (1), date (1), tag (1), flower (1), banner (1), 3 patterned papers (1), ball (1), finish an unfinished project (1), something holographic (1), butterflies (1), and metal (1). I also earned 5 additional points for creating this blog, a scrapbook process video and for sharing this on social media.
I decided to create a layout starting with a base page that I had created several weeks ago using the Bella Blvd Secrets of the Sea 6×8 paper pad. For this layout, I used a picture of my dog LilyBelle that was taken in 2018.
I used a white cardstock for my background and then layered papers from the Bella Blvd Secrets of the Sea paper pad. For my title, I used the word "Seriously" from the Amy Tangerine Today White Foam Thickers and the word "Cute" from the Maggie Holmes Willow Lane Thickers. The banner at the top, the bird and several words and phrases are from Vicki Boutin's Color Kaleidoscope Hello Friend Thickers. I also added a tag with a parrot, some twine and a yellow bow to the right side of my layout. To embellish my layout, I used stickers and die cuts from DCWV Playful Pets, a holographic star and heart, a butterfly puffy sticker and then finished off this layout by adding some enamel dots and a "Fun, Fun, Fun, Fun" flair button from my Button Shop.
Here are some closeups of my layout.
And, here's a full picture of my layout.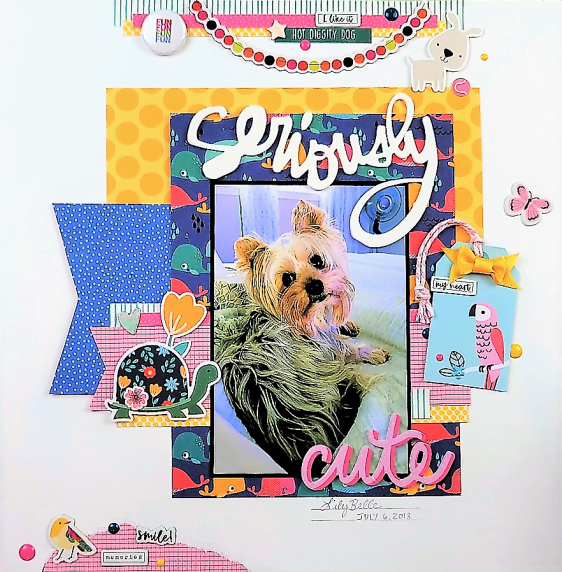 I hope I've inspired you to join in with the CalvinBall 2021 challenge.