CalvinBall 2021| Layout #2 | You are a Star
This layout was created for the CalvinBall 2021 Challenge on Day 2. CalvinBall is free to join and you can join anytime in the month of March. If you are interested in participating in this challenge head on over to the Scrap Happy for more information. https://scraphappy.org/calvinball/ #calvinBall2021 #scrapHappy
For this challenge, the rules included the following a star, the color green, cutfiles, enamel dots, put away 4 layouts, a ball, finish an Unfinished project, an airplane, a gnome and something holographic. You can also earn points by sharing your project on social media, creating videos and blog posts, etc.
This Layout earned a total of 11 points. I created a layout (1), using a star (1), the color green (1), a cutfile (1), something holographic (1), enamel dots (1), created a video (1 point), created this blog post (1 point), and shared on Social Media (3 points).
I decided to create another layout using stars and I started with a star cutfile. I also used two star punches … the double star punch from Creative Memories and the EK Tools mini Star punch. The picture was taken in 2008 and is a picture of my niece and one of her school projects where she was the star.
The layout was matted with a striped pattern paper from Fancy Pants Joy Parade and the background has a blue paper from Vicki Boutin and a yellow polka dot scrap from my stash. I used Green Polka dot chipboard letters and white foam thickers to create my title. To embellish my layout, I used stickers from Photo Play Mad Plaid Happy 12×12 sticker sheet, 3-D stickers from Firefly, puffy stickers from Amy Tangerine and then finished off this layout by adding some enamel dots.
Here are some closeups of my layout.
And, here's a full picture of my layout.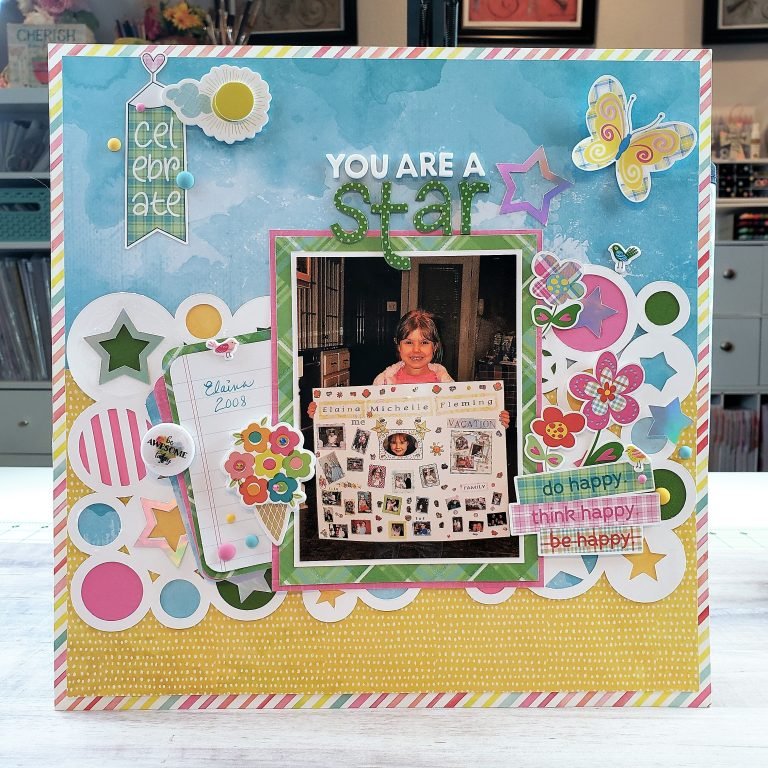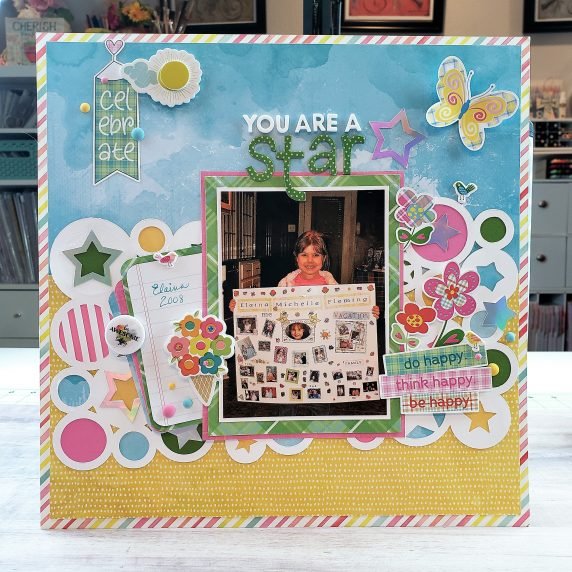 I hope I've inspired you to join in with the CalvinBall 2021 challenge.