A Cherry on Top "Color and Shape" Challenge for June 2019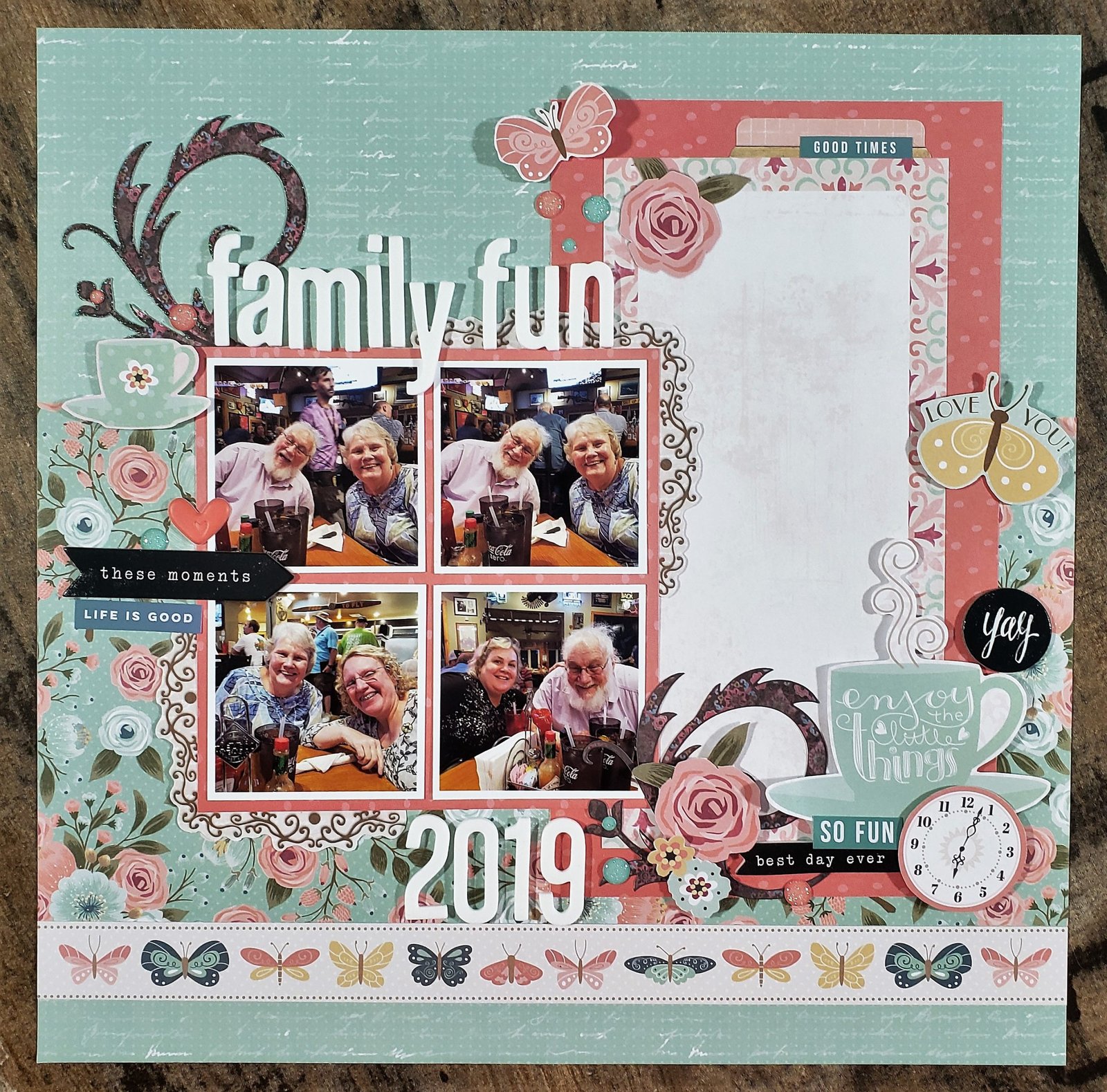 I created this layout for the Cherry on Top "Color and Shape" Challenge for June 2019.  This challenge required the use of at least 3 colors from the color palette and one or more flourishes on your layout.
I wanted to use papers from a Bo Bunny paper pad that I picked up at Tuesday Mornings.  I just love the colors in this Bo Bunny collection and I thought it was perfect for this color challenge.
I quickly picked out some white foam Daiquiri Thickers for my title, but I had a tough time finding a flourish in my scrap stash.  I remember having lots of flourishes when I started scrapbooking many, many years ago. but I guess it's not as popular these days, because I couldn't find flourishes in a lot of my newer stash of sticker sheets and ephemera packs.  I finally managed to find a couple fourishes in a K&Company "Kelly Panacci Blossom" die cut pack that I got from my friend Enrae for my birthday this year.  I love that many of the stores have started to carry the K&Company brand paper and ephemera again.
The pictures in this layout were taken at dinner out with my Uncle Richard.  My Uncle had taken the MegaBus from Atlanta, GA down to New Orleans, so my Mom, my sister Terri and I drove over to New Orleans to pick him up from the bus station.  On our way home, we stopped for dinner at the Southside Café in Slidell.  The food was awesome and it was so good to visit with my Uncle.  I wanted to save space on this layout for journaling, so I added a die-cut journaling spot from the Bo Bunny paper pad.
In addition to the flourishes, I cut out some tea cups, flowers, butterflies and a clock from one of the Bo-Bunny papers.  I finished off this layout with a few word stickers and some sugar enamel dots in aqua and peach.
Here's a full picture of my layout.  
If you are interested in playing along with this challenge, here's a link to the challenge.
https://www.acherryontop.com/forum/viewtopic.php?f=25&t=265547