New Blog Series "Organize Wednesday" – Recollections Slim Project Case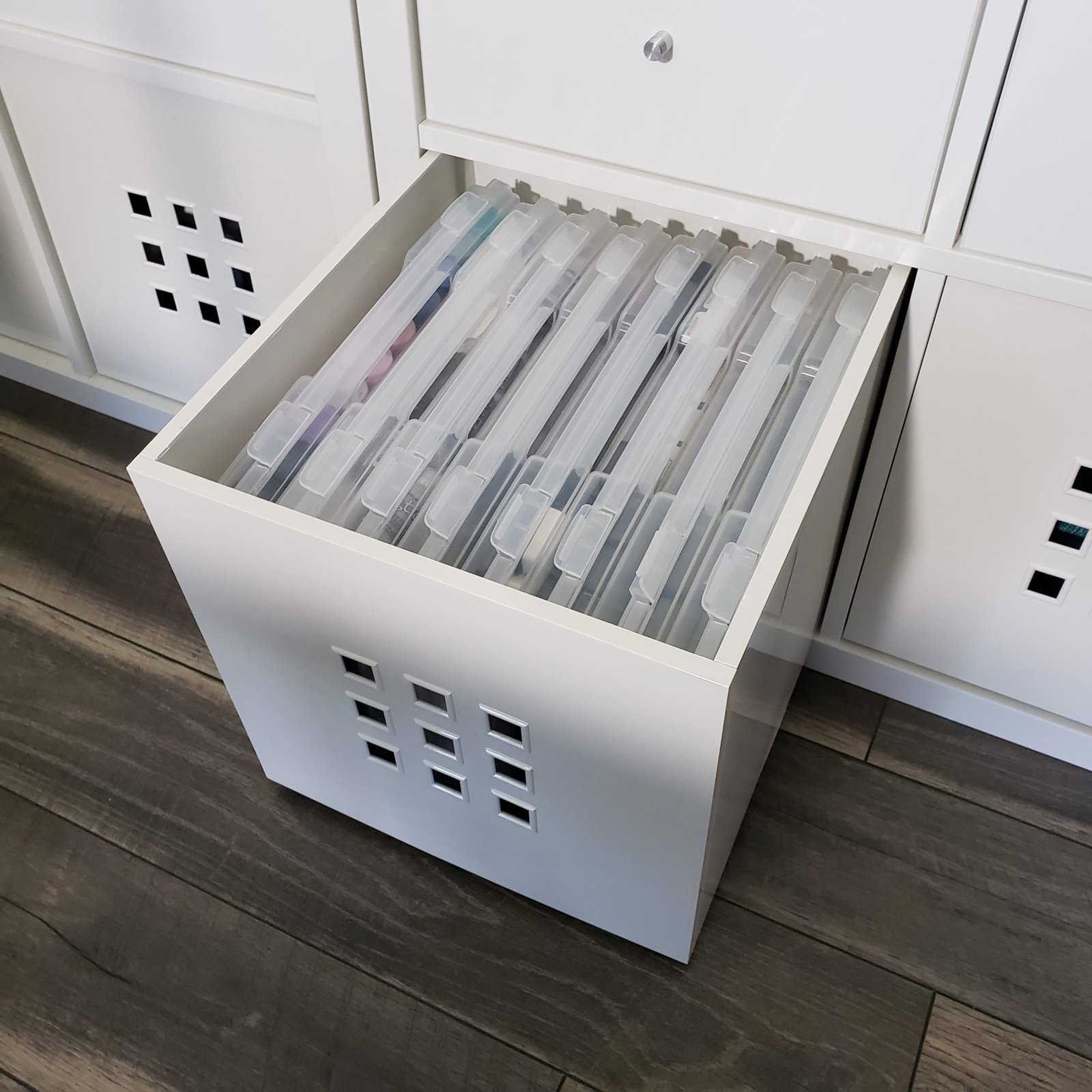 I've been wanting to share organization and craft storage tips and ideas since I started this blog back in 2017. But I think most people can relate to the overwhelmed feeling you get when you have to deal with trying to tame your craft room. I love to organize almost as much as I love to craft and I love to share what I've learned with others. So, I'm just going to take the plunge and start creating a weekly blog which I will publish every Wednesday.
I've been accumulating craft supplies for over 25 years and as much as I love to be organized, I just can't seem to get a handle on everything that I have. I know that there are many crafters out there (whether just starting out or crafting for many years) that have the same frustrations as I've had with trying to contain and organize the multitude of craft supplies.
In this series, I will be sharing the products and ways that I've found to organize my crafting supplies. The focus of this blog series will be on the storage solutions and organization products that I've found work for me. Everyone has different ways of working, so probably not everything that works for me will work for you, but I do hope that this information will help you to find what organization methods and products help you to organize your crafting supplies.
Because I can't fit everything I have in my craft room within arms reaching of my crafting workspace, I bring my supplies from wherever they are stored in my craft room to my workspace. So … I love containers, but containers don't always love me back. I don't know how often I've purchased a container, only to get home and find that what I planned to store in that container doesn't fit. Oh so many disappointments!!!
In this first blog post I wanted to highlight a storage case that I found this year at Michael's. It initially was a big disappointment but then became one of my favorite containers in my craft room by providing storage for a vast array of crafty items. This storage case is from Recollections and it's called the "Slim Project Case". Here's a link to this case on Michaels.com and a few pictures of the empty case below.
When I first purchased one of these project cases, I thought that 12×12 paper would fit in it. Wrong, Wrong, Wrong!!! If I would have read the description, I would have realized that it wasn't going to work as a project case to fit a 12×12 scrapbooking kit (which is what I thought I was going to use this case for). The dimensions for this case are 12.9″ x 12.1″ x 1.5″ and it does say on the label that it's for 8.5″x11″ projects. But, hey, just glancing at the measurements and looking at the size of this project case, you would think that this case would fit 12×12 paper …. but, nope, it doesn't. The dimensions listed are the dimensions for the exterior of the case.
At first I was really disappointed that my 12×12 paper wouldn't fit, but I quickly found that this slim project case was perfect to store other crafty items. I first tried to use it to store paper scraps … it worked ok but it wasn't really that functional. Narrow 12 inch scraps could fit but it was a tight fit. If you pile in a ton of scraps, then it's difficult to sift through them. So, I wouldn't recommend it for storing scraps. So, that's what didn't work. But now, let's get to the good stuff … these are all the things that fit in this case and the case fits perfectly in the Kallax cube shelving from Ikea. So, here we go.
Large Distress Ink Pads and Distress Oxide Ink Pads. 24 Ink Pads will fit in this case. 12 in one layer, or 24 in two layers. I have 48 Distress Oxide Ink Pads and they all fit in two of the Slim Project Cases.
Next up, mini ink cubes … yep, they fit too. And, you can fit a ton of them in one case. I have a single layer but just like the large ink pads, you can stack two layers.
The case can hold about 67 mini ink cubes in a single layer or 134 if you stack two layers. You can see from the pictures above that the outer edges of the case can hold eight mini ink cubes per row, but the middle section only holds seven ink cubes in each row. This is because the case is not a square inside but has indentions at both top and middle in the center.
Here are some other crafty things that fit in this case.
If there was anything that I wish I could change about this container would be that I would wish it was about 1/4″ higher because I found that many things would fit but the lid would not close … so it would be even more functional if it was a little deeper.
The other thing that I like about this case, is that it can be stacked one on top of each other. Or, the cases can be stored vertical on a book case and stacked like you would books. You can fit eight cases in a Ikea Kallax bookcase and you can also fit eight cases inside the Lekman box that fits inside the Kallax . If you put eight cases in the Lekman, it can get very heavy depending on what you store in each case.
I store my distress inks and ink pads stacked on top of each other in the Lekman. But I have the stickles and Nuvo drops stored vertically on one of my Kallax shelves so that the bottles are upside down.
If you have these Slim Project Cases in your craft room, I would love for you to comment on this blog post with what you store in your cases.