Spellbinders "Love Grows Here" Card Kit for December 2022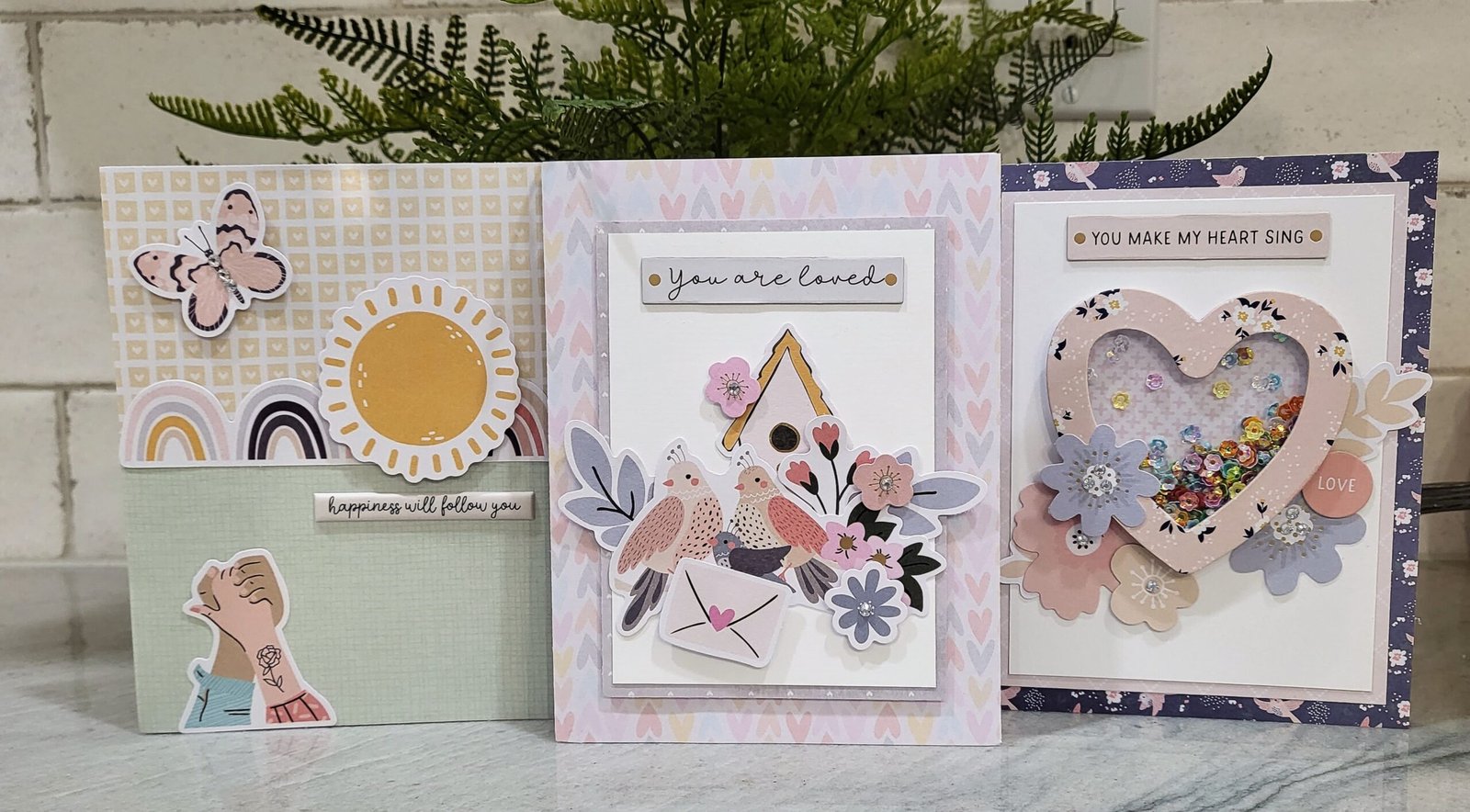 Thanks so much for stopping by to see the cards that I created with the new "Love Grows Here" Card Kit from Spellbinders December 2022 Club. In this post, I am sharing 3 cards that I created using the December card kit. The Spellbinders Card Kits are amazing and come with so many fun supplies including paper, carstock, embellisihments, stamps and dies! I love the colors for this month's card kit and all of the pattern paper and embellishments were a lot of fun to create with.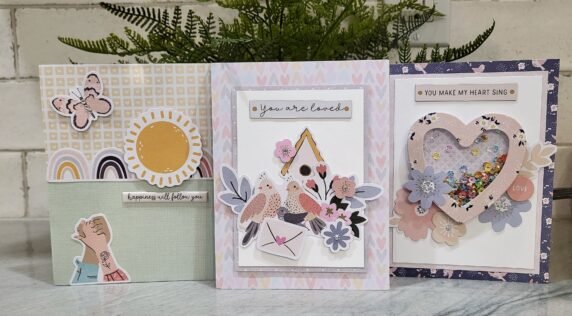 All of these cards were created using the supplies from the December Card Kit (shown below) with the addition of some sequins from my stash and gems from Honey Bee Stamps.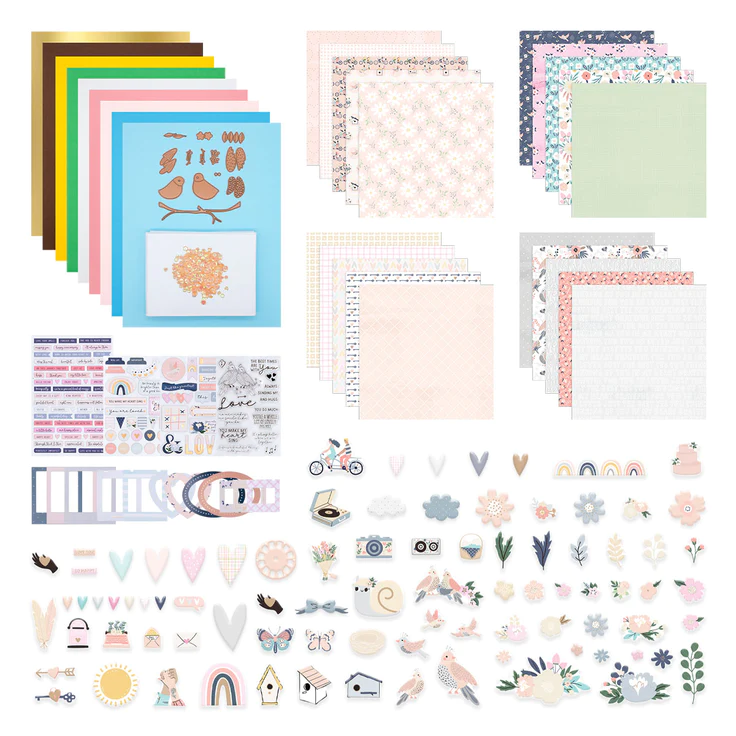 The paper and embellishments in this kit is really cute and I love all of the birds that were included in the ephemera!
For my first card, I started with an A2 size card base and added a heart patterned paper. I created a center panel for my card from a grey and white polka dot paper and white cardstock. The bird dies in this kit are adorable and I created a fun scene with a birdhouse, birds and florals along with cute envelope. The sentiment comes from the chipboard embellishments. For a bit of sparkle, I added some Honey Bee Stamps gems to the center of the flowers.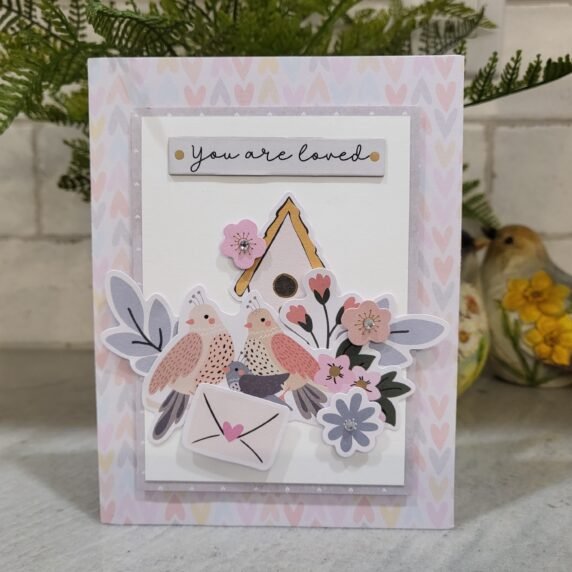 For my second card, I used 2 of the pattern papers from the 6×6 paper pad to create a fun scene with a yellow pattern paper on top and a green pattern paper on the bottom. I added rainbows and a sun and a butterlfy. I love all of the dies included in this kit and it was really fun to create this happy scene. I used one of the puffy stickers "Happiness will follow you" for the sentiment and added the clasped hands to the bottom of the card. I thought that this card turned out really cute. For a little extra sparkle, I added some Honey Bee Stamp tiny gems to center of the butterfly.
For my third card, I wanted to create a shaker card. I started with several card panels … first a blue floral pattern paper, a pink pattern paper and then a white cardstock. I love that Spellbinders has been including chipboard frames in the card kits. They are the perfect embellishment to use to create a shaker. I picked out a pink heart frame and backed it with a pink & white pattern paper. I added plastic acetate behind the heart frame and then added foam tape to the back. I decided to use some tiny flower sequins inside the shaker and I think they look adorable. I added the shaker to the front of the card and then embellished with florals around the heart. For the sentiment, I used another one of the chipboard stickers "You Make My Heart Sing" and added that to the top of the card. To finish off this card, I added a LOVE circle chipboard and some tiny gems from Honey Bee Stamps. and add a bit more sparkle and shine, I scattered a few more of the tiny gold sequins around the card.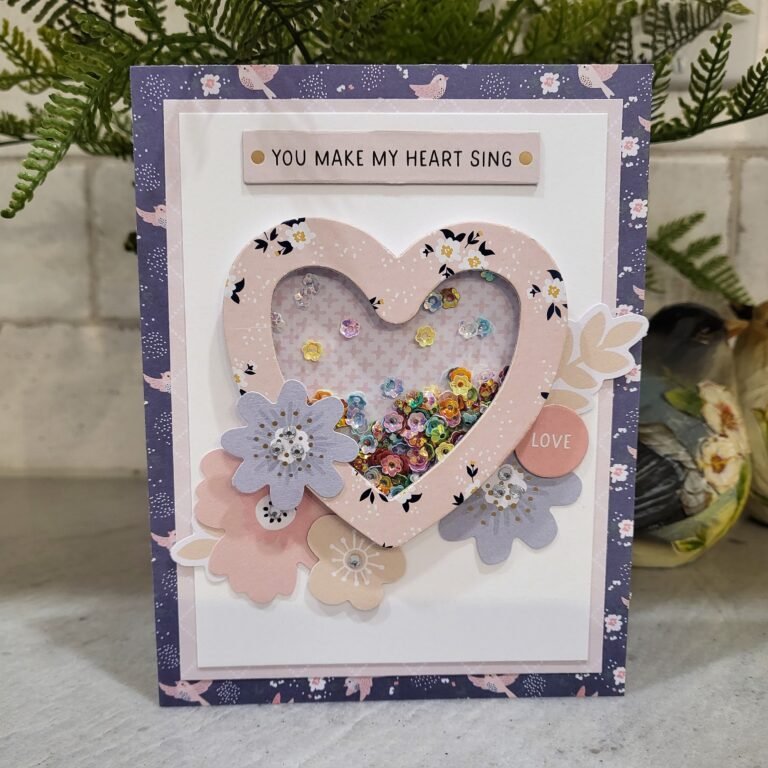 I hope I've given you some inspiration for how you can use the Spellbinders December 2022 Card Kit to create some amazing, magical cards. Thanks so much for taking the time to stop by my blog. I hope you join me next year in January for more cards created with the awesome card kits from Spellbinders.
@teamspellbinders #Spellbinders #neverstopmakings #amazingpapergrace_creates