Scrap Our Stash | September Cartoon Sketch Challenge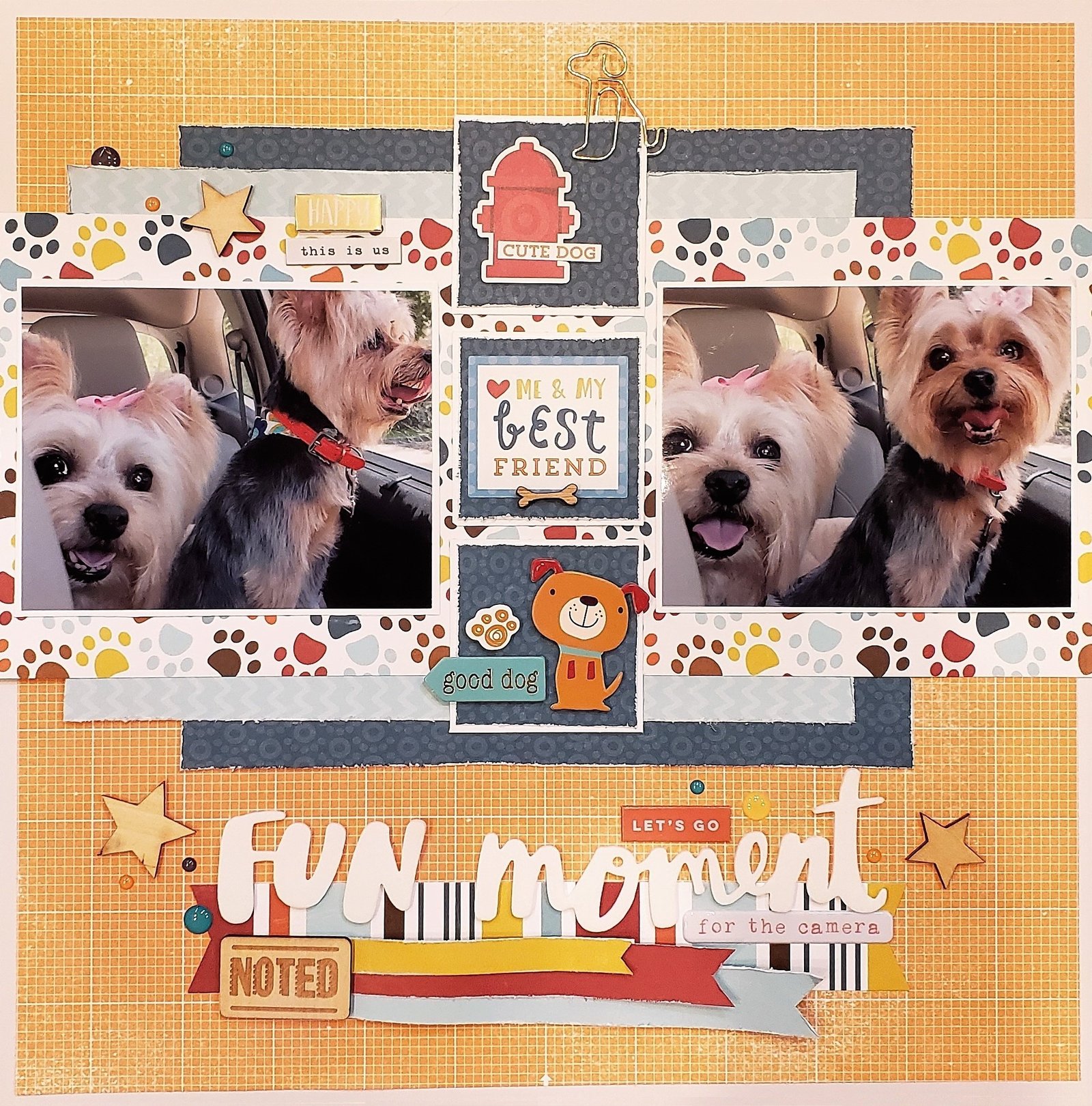 This layout was created for the Scrap Our Stash September Cartoon Inspired Sketch Challenge. If you are interested in participating in the September "Carton" sketch challenge head on over to the Scrap Our Stash BlogSpot.
For this challenge, you will need to create a layout inspired by this Saturday Cartoon. You must include an educational symbol (such as pen, paperclip, apple,, books) on your layout. The sketch for this challenge is shown below.
For the challenge, I knew that I wanted to try to pull in one or more of the colors from the cartoon, so I flipped through some of my paper and found an orange grid patterned paper from Amy Tangerine, "Yes Please" collection. The other patterned paper came from the Echo Park "Bark" collection.
I didn't realize when I started this layout that I would need something school related, so I was going to have to figure out how to incorporate something into the layout and I decided to add the Dog Paper Clip.
The pictures used in this layout are of my two Yorkies (LilyBelle and Bella). I had just picked them up from Mary's Bed and Biscuit where they had a mini vacation for 5 days while my Mom and I went to Texas to visit my sister Jeannie and her family. While they were there at Mary's, they got to play with the other dogs at Doggie Daycare and they got their hair cut. On the way home, we drive through a sandwhich shop (Counter Culture) to pick up dinner and I recorded a video. They love going through drive-thrus and they had a blast. I was able to get snapshots from the video using Wondershare Filmora video editing software.
Here are some close-ups of this layout.
I used some thickers for the title, chipboard pieces, wood veneer and stickers from the 12×12 sticker sheet that came with the Bark collection. Some enamel dots add some fun pops of color and finished off this layout.
Here's a full picture of my layout.
It's so much fun to get inspiration from a sketch. I hope that you join in on this month's challenge over at Scrap Our Stash BlogSpot.