Scrap Our Stash | January Sketch Challenge | Grandma's Christmas Treats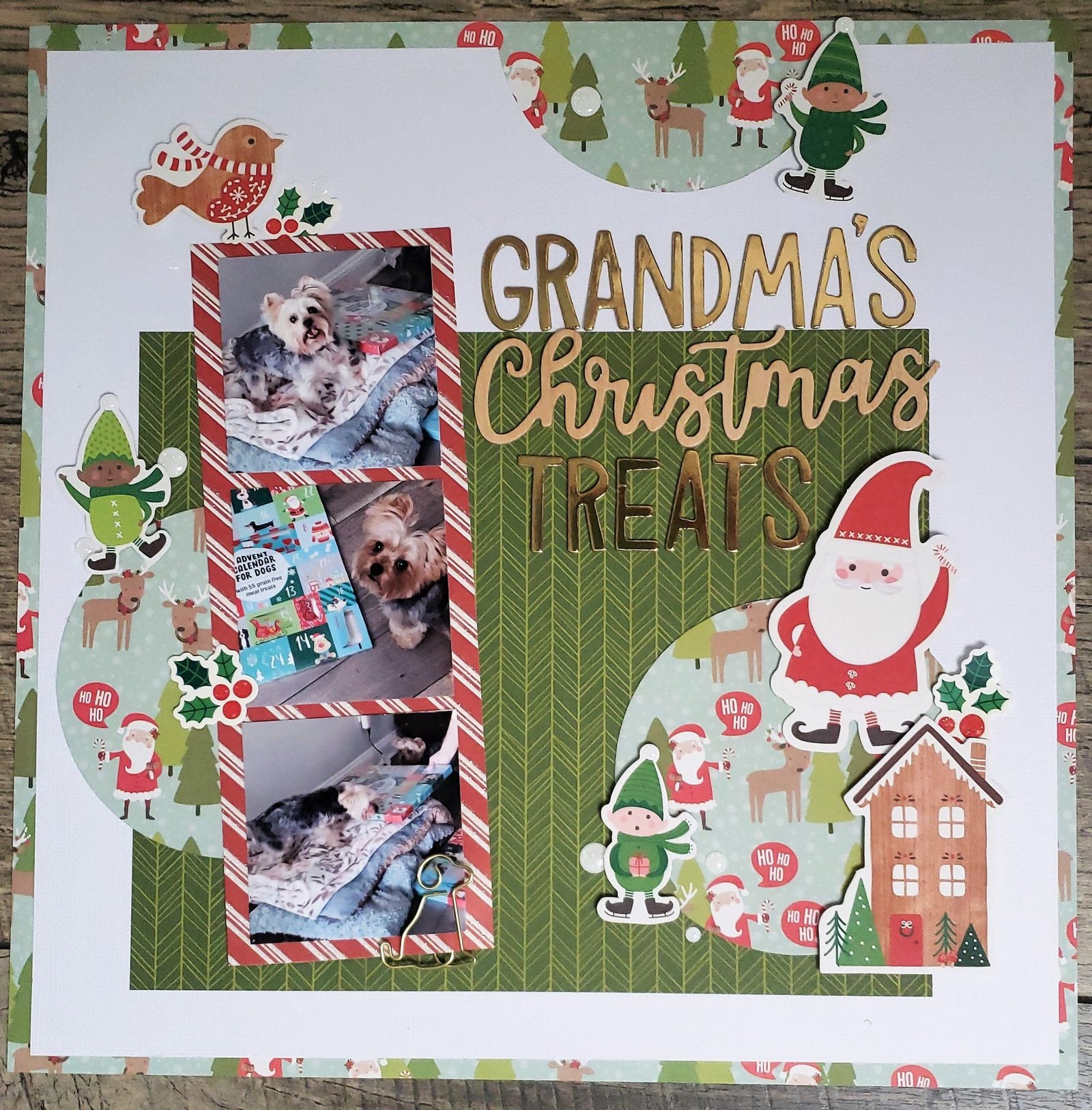 This layout was created for the Scrap Our Stash Sketch Challenge for January 2020. If you are interested in participating in this month's challenge head on over to the Scrap Our Stash Blog.
For this challenge, create a layout using the Sketch below. Also, you must use a chevron patterned paper and something gold on your layout. Upload a link to your layout to Scrap Our Stash Blog by January 29th to be entered into the challenge.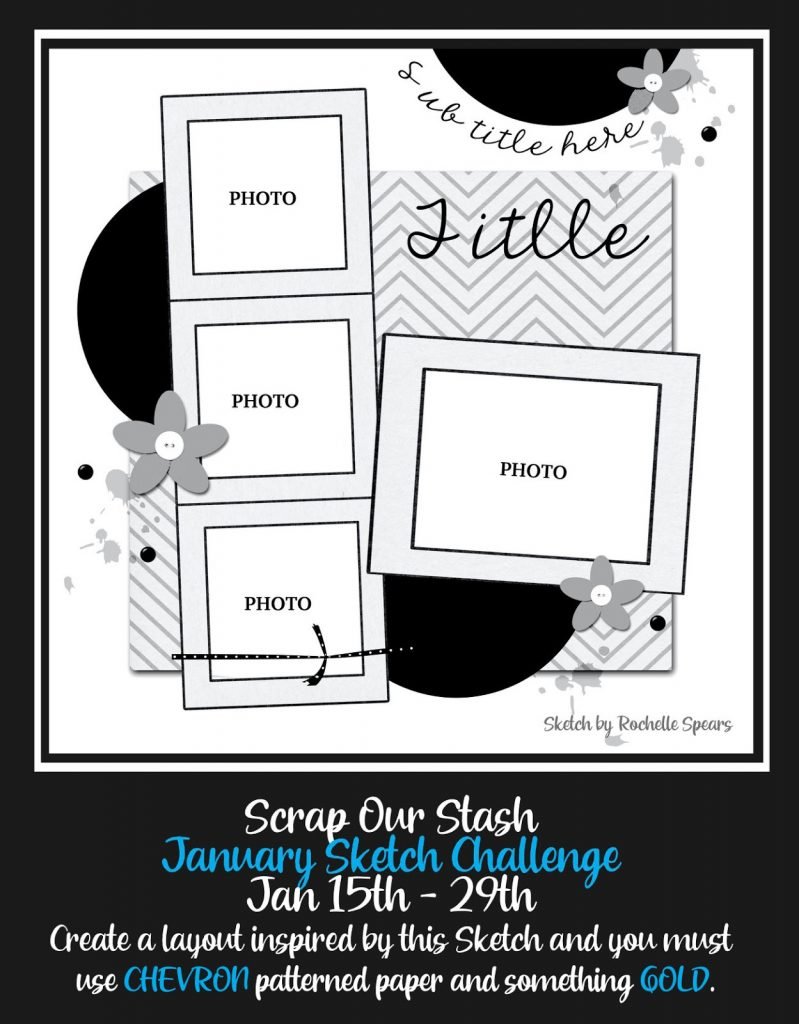 The pictures that I used in my layout, are pictures of my two Yorkies (Bella & LilyBelle) that were taken in November when my Mom gave LilyBelle & Bella their Christmas present. She gave them Doggie Advent Calendars and they were super excited. Every day from Dec 1st until Christmas they got their special Christmas Treats from Grandma.
The patterned papers used in this layout came from the Pebbles Merry Merry paper pad. The green chevron patterned paper was from the Echo Park Once Upon a Time Prince collection. The die cuts are from the Pebbles Cozy & Bright collection.
I used a fun Santa patterned paper from the 12×12 paper pad to mat the layout and the background was white cardstock from my stash. A patterned paper with red and white striped was used to mat the pictures. I used the Martha Stewart circle cutter to cut a half circle in the white background. I also cut two 4 1/2″ circles from the Santa Paper.
For my title, I used the gold thickers to spell out "GRANDMA'S" and "TREATS". And, then I used the word "Christmas" from the Pebbles Cozy & Bright collection. And, to finish off this layout, I added some die cuts from the Pebbles Cozy & Bright ephemera pack, a gold dog paper clip and some white sparkly enamel dots.
And, here's a full picture of my layout.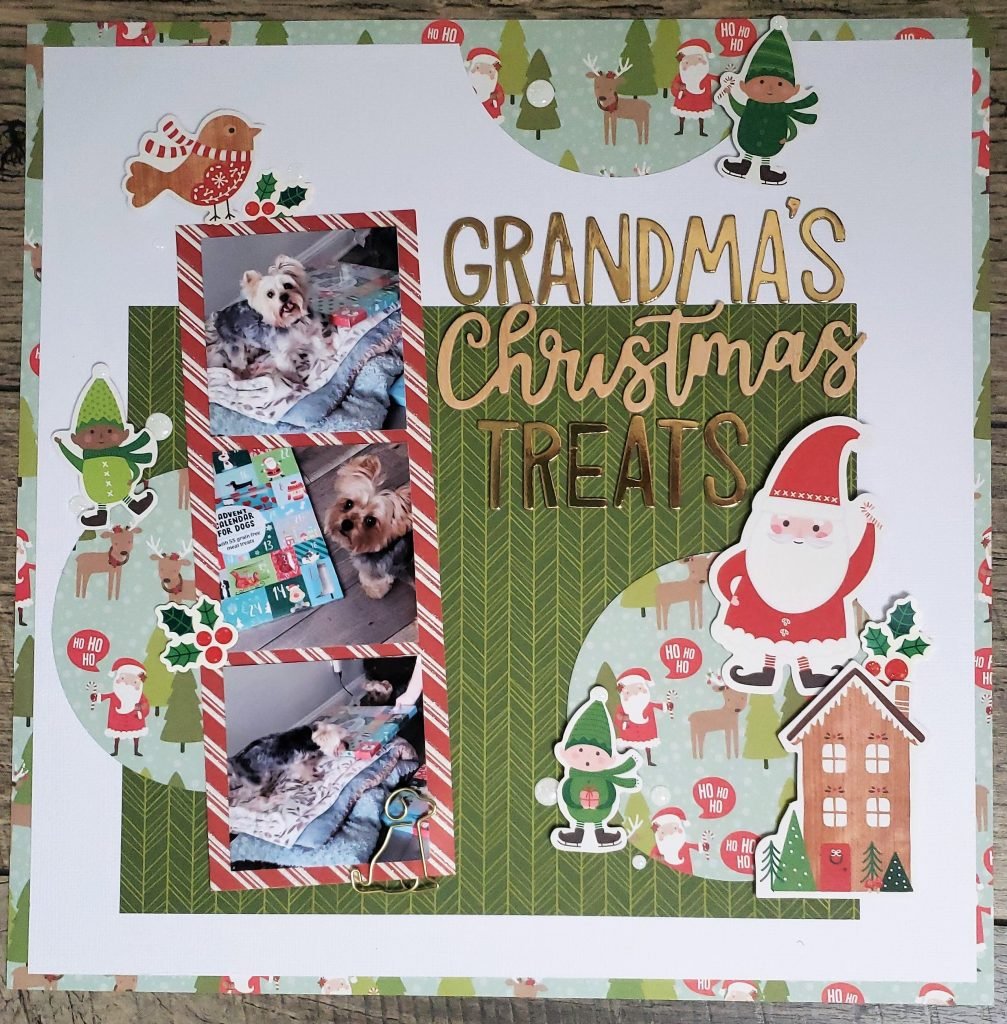 I hope I've inspired you to join in on this month's challenge. For more inspiration, go over to Scrap Our Stash Blog and check out the other Design Team Member layouts for this month's challenges.