Scrap Our Stash | December "Pick Your Side" Sketch Challenge | My Family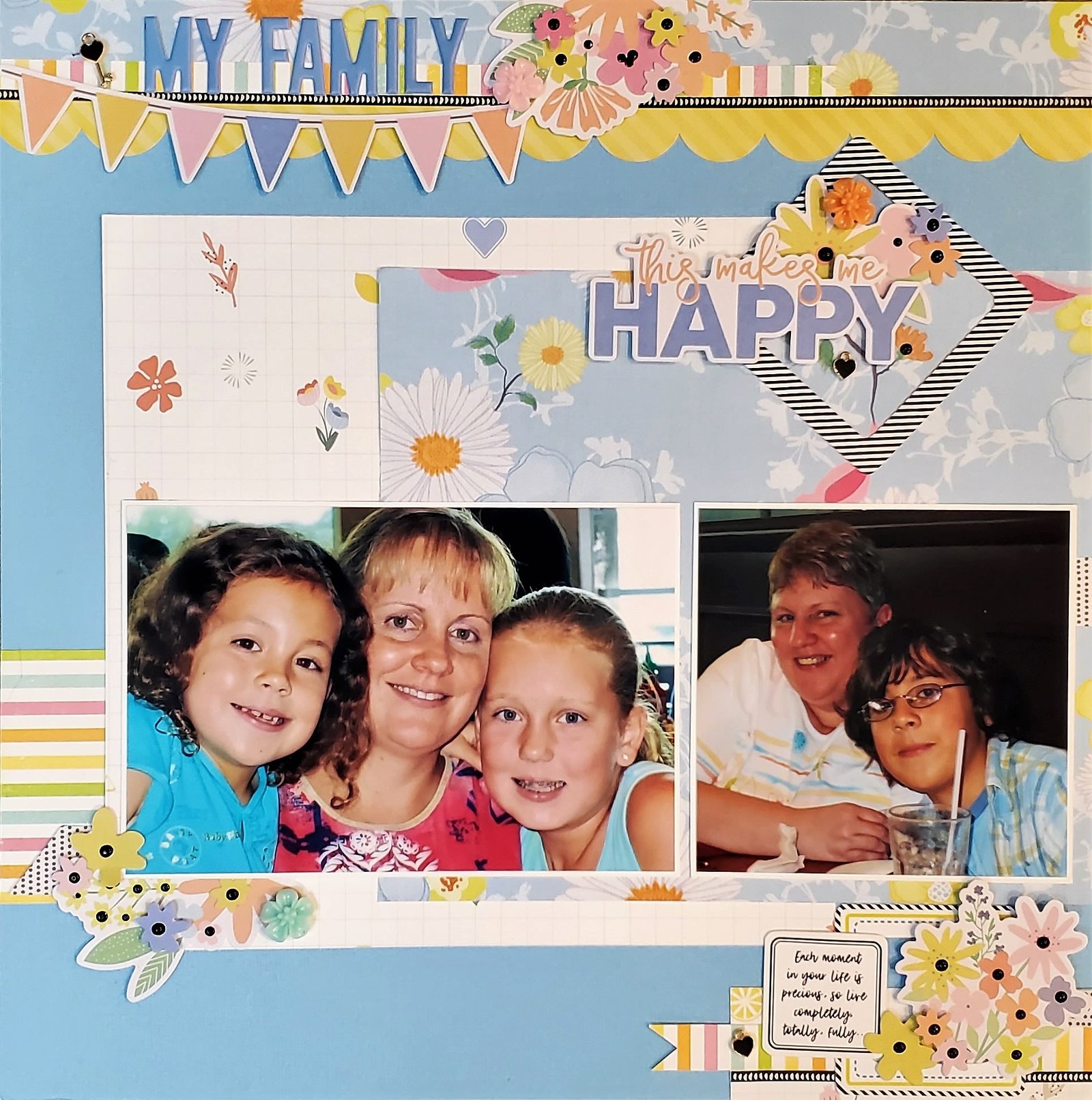 This layout was created for the Scrap Our Stash December "Pick Your Side" Sketch Challenge. If you are interested in participating in this month's "Pick Your Side" sketch challenge head on over to the Scrap Our Stash Blog.
For this challenge, create a one or two page layout inspired by the sketch and also be sure to include 8 or more different types of scrapbook items on your page (for example: 3 patterned papers, twine, tag, 2 different alphas & enamel dots).  The sketch for this challenge is shown below.
I decided to use the left side of the sketch for my layout. The pictures that I used in my layout, are some old family pictures of me, my sister, my two nieces and my nephew. I thought that these two pictures would work really well with the left side of the sketch. I looked through some of my papers and collections and decided to use the July 2018 kit from the Hip Kit Club (the contents of this kit is shown in the picture below).
For this layout, I used two patterned papers from the Hip Kit Club kit — Simply Happy from Pretty Little Studio's Savannah Dreams collection and Happy Life from Pink Fresh Studio's Simple & Sweet collection.
My third patterned paper, the rainbow stripe, I pulled in from my stash. I also wanted to pull in more blue into my layout because there was a lot of blue in my pictures, so I decided to use a blue cardstock (also from my stash) for my background.
I wanted to bring in more black to the layout and I used some washi tape and also some of the frames that were in the Hip Kit Club kit. The yellow scallop border that I added to the top of the layout was from a 12×12 sticker sheet.
For my title, I used the blue puffy alpha stickers from the Hip Kit Club kit to spell out "MY FAMILY". And, to embellish this layout, I added a banner across the top under my title, added some flower die cuts in 3 different clusters. To fill out my clusters and add some additional texture to my layout, I added some black and gold enamel heart and key charms and a few resin flowers. To finish off this layout and also add more black to bring the layout together, I added black Nuvo drops to the centers of all the flowers. Here are some close ups.
In addition to using the sketch for inspiration, part of this challenge was to use 8 different types of scrapbook items. To meet the challenge, I used 3 different patterned papers, washi tape, border strips, frames, nuvo crystal drops, resin flowers and enamel charms.
Here's a full picture of my layout.
I hope I've inspired you to join in on this month's challenge. For more inspiration, go over to Scrap Our Stash Blog and check out the other Design Team Member layouts for this month's challenges.