Organize Everyday | Rolling Storage | 12×12 Paper and Cardstock Storage | Mobile Paper Carts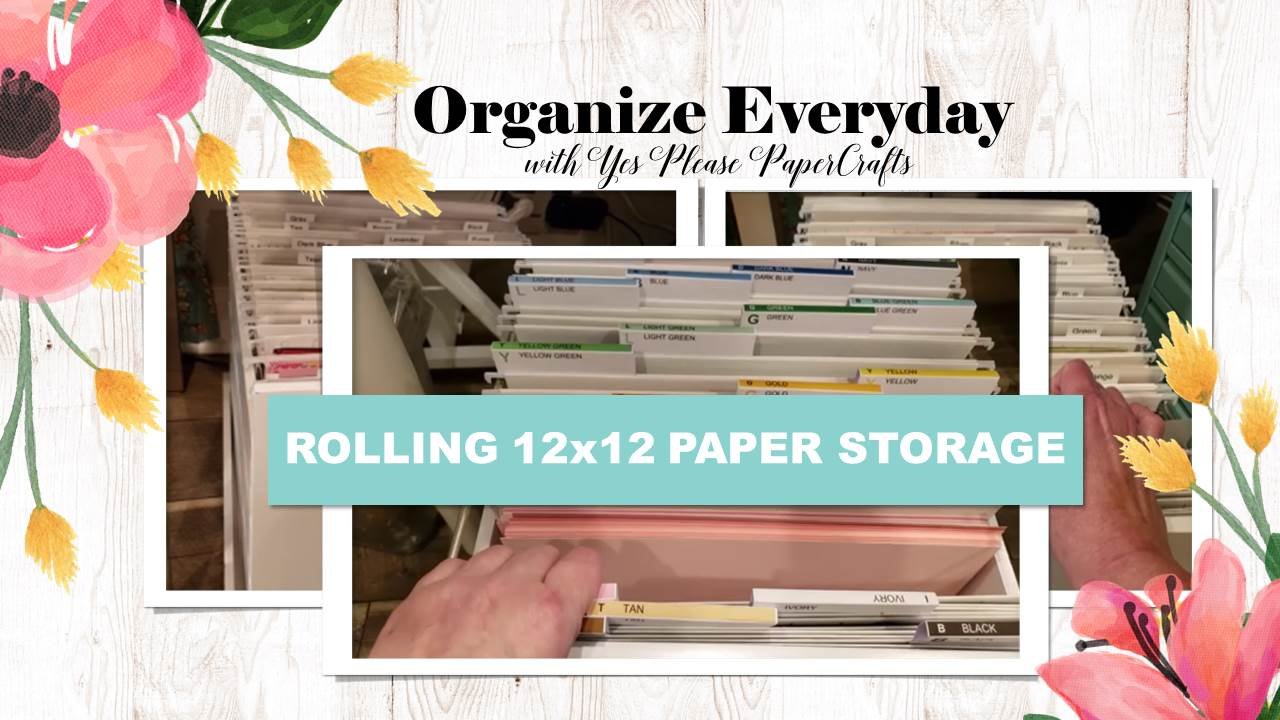 Get ready to roll because next up in the Organize Everyday series is 12×12 Paper and Cardstock Storage on wheels. The latest video in the series is now available on YouTube (link is below).
Mobile storage on wheels can be great storage solutions for 12×12 paper and cardstock. I have two mobile paper carts on wheels that hold 12×12 hanging file folders. These paper carts were made by taking the hanging file drawer from the Recollections Hanging File Folder Cube and adding it on the Recollections Mobile base.
I store my 12×12 paper and 12×12 cardstock by color in two of these mobile paper carts. Michaels no longer sells the Recollections Hanging File Folder Cube or the Mobile Base but here are some other mobile paper carts.
This first option is from Stamp-n-Storage and is the Paper Crates. These hanging file folder crates come in two sizes … one for 8.5×11″ paper and one for 12×12″ paper. These crates stack on top of each other and you can also purchase a rolling base to make the crates mobile.
12×12 Paper Crate
The second option is from Advantus/Cropper Hopper and it's called the Heavy Duty Paper Cart. This cart already has wheels and it can hold 12×12 Hanging File Folders.
Next up are suggestions for things that may work as a mobile paper cart. Please make sure to check the dimensions before buying any of these items because I do not know if the interior dimensions would fit 12×12 hanging file folders.
Ikea Ombyte Combination Storage with Casters is a new product from Ikea that appears to be similar to the Stamp-n-Storage paper crates. I contacted Ikea but they were not able to tell me what the inside dimensions are, so I could not verify if these crates would fit 12×12 Hanging File Folders, but wouldn't it be cool if they did??? I think you could possibly use these to store 12×12 paper pads or just loose paper or cardstock.
Another product that may work to build your own mobile paper cart would be a Record Album Crate. These can be purchased from Amazon and you would just want to make sure that the width and depth of the cart would fit hanging file folders. Add some casters and these record crates would make awesome paper storage.
The 12×12 Hanging File Folders can be found from a number of different manufacturers including Recollections, Cropper Hopper, Stamp-n-Storage and Iris.
Cropper Hopper
Hanging File Folders
How do you store your paper and cardstock? I would love to hear from you on what tips you might have on storing paper and carstock.
If you have questions or just want to share ideas on storage and organization on any of the information provided, please head over to the "Craft Room Organization with Yes Please Paper Crafts" Facebook Group . If you haven't joined the group yet, please request to join.