LOAD 5-19 Day 23 – Princess Beds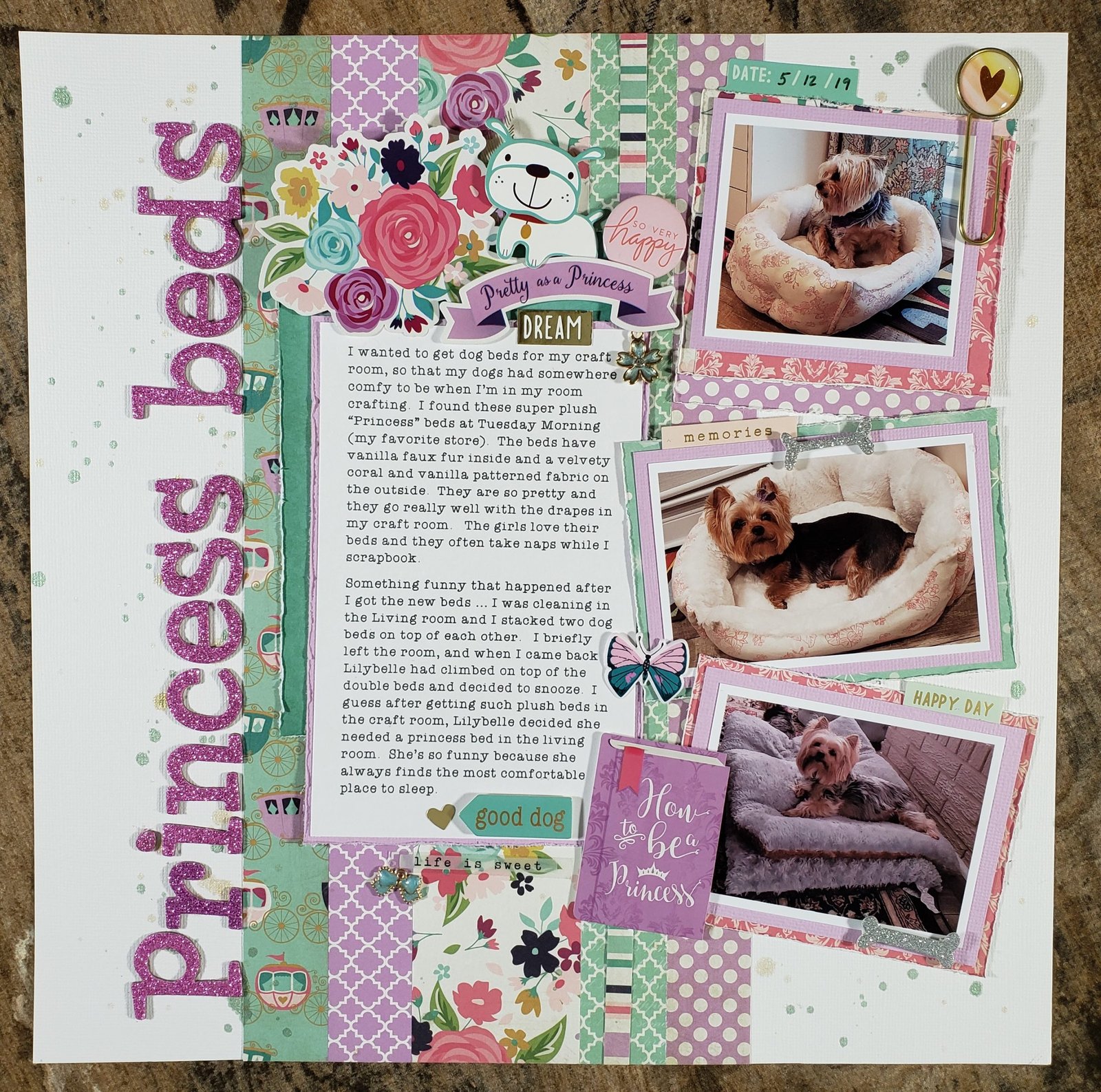 For LOAD 519 Day 23,  the LOAD Prompt was to tell a story with a happy ending or use hearts.  I have an idea for a layout with stitched hearts but didn't have time to do it on Day 23.  So, yep … went "Off Prompt" again.
I wanted to scrap more pics of my dogs and I had some pics of Lilybelle and Bella in their new dog beds.  My dogs love to have a comfortable spot to sit or nap and I have dog beds in my Living Room and my bedroom.  My dogs are too spoiled and expect to have a comfy place that is near me.  Which means I'm constantly moving dog beds from one room to the next.  Every time I go from my living room to the craft room, I have to move dog beds.
So, I decided I would get a couple of extra beds for my craft room.  A great place to shop for dog beds is Tuesday Mornings.  I searched Tuesday Mornings for a few months but could never find matching dog beds in the color that matched my craft room.  If you know me, you would know … "It has to match" … I drove my Mom nuts when I was a child (and even now that I'm adult) because I like this to match.  Anyway, I finally found two matching dog beds at Tuesday Morning that were so plush and the fabric is just beautiful … and they match the drapes in my Craft Room.  The beds are so plush, I call them the "Princess Beds".
I went to Tuesday Mornings in Long Beach, Mississippi on Wednesday with my Mom.  She wanted to go to lunch and the Casino.  After I won $80 at the casino, I gave half to my Mom and suggested we go shopping at Tuesday Morning.  It's always a happy day when you get to go shopping at Tuesday Mornings and even more happy to have an extra $40 bucks in my pocket to spend.  I found a page kit from Echo Park called "Once Upon a Time, Princess" and thought it would be perfect for a layout about my dogs Princess Beds.  For the title, I used some purple glitter Thickers called "Sprinkles".
I used a free sketch from Scrapbook Generations where they used of 1″ x 12″ paper strips in different patterned papers.  I didn't follow the sketch exactly, but used it to jump start my layout.  I had a lot of journaling, so I needed space for that and that made me change the page layout from the original sketch.
I added stickers from the 12×12 sticker sheet that came with the "Once Upon a Time Princess" collection and from a Park Lane dimensional dog themed sticker pack I got from Jo-Ann's.
Here's a full picture of my layout for LOAD 519 Day 23.  
#LOAD519 DAY 23