Spring Cards Created with the Spellbinders February 2023 Club Kits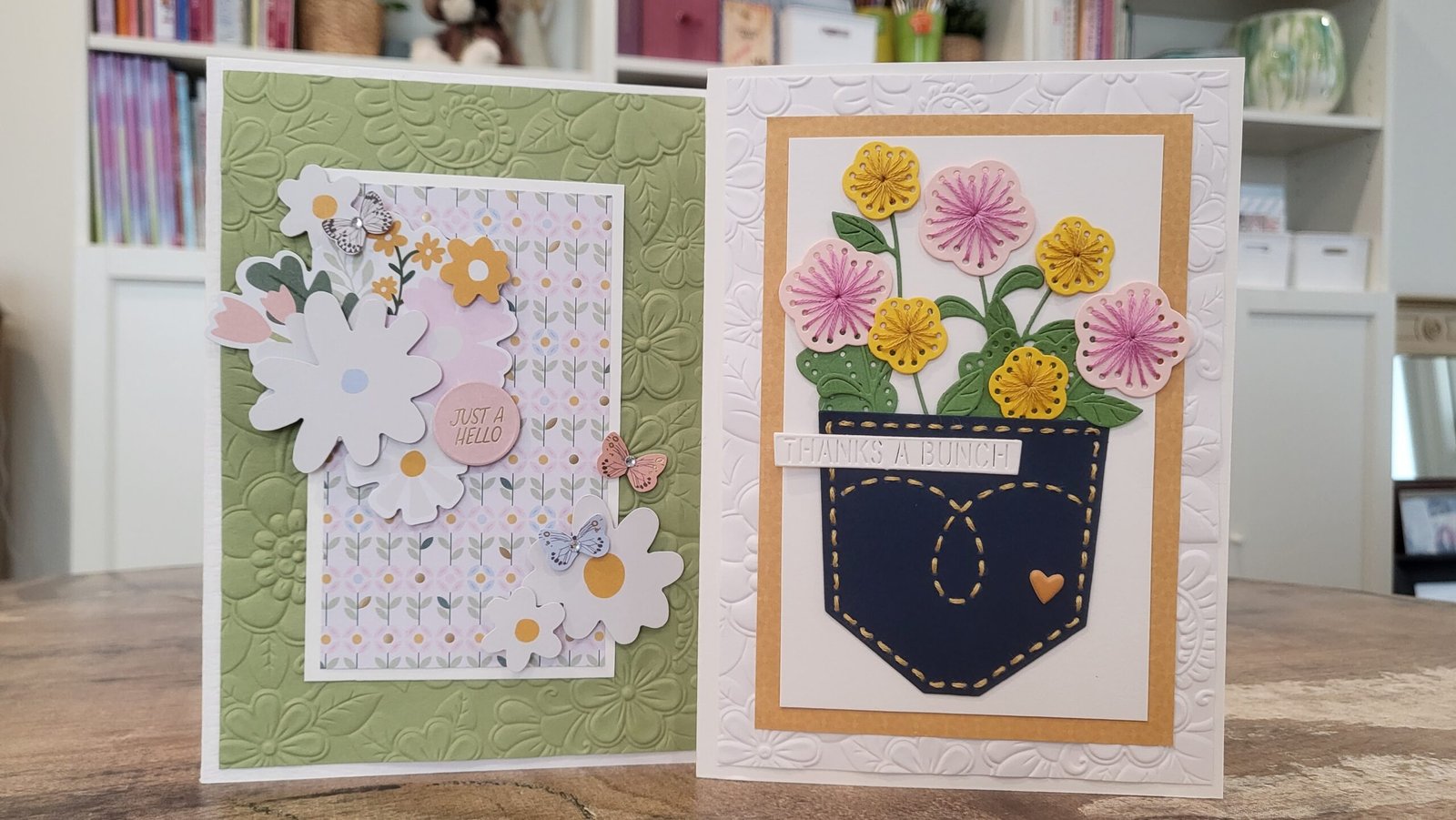 Thanks so much for stopping by to see the cards that I created with the new "Spring Burst" 3D Embossing Folder and the "Pocket Full of Spring" Stitched Dies from Spellbinders February 2023 Clubs. In this post, I am sharing two cards that I created using the new club kits.
For my first card, I decided to use a 5″x7″ card base. For the card panels, I embossed white cardstock using the February Embossing folder and then added a yellow pattern paper from the Feburary Card Kit and then added a panel of white cardstock. The yellow cardstock adds a border around the white cardstock and helps the flowers stand out from the background. The embossed card panel adds a lot of texture to the card and makes the card even more specil.
Next, I used the stitched dies of the month and cut out all of the stitching pieces from different colors of cardstock. I decided on a dark blue for the pocket and stitched the design using a gold embroidery thread. I think this color combination is super cute and makes the pocket look like a pair of jeans. I stitched the flowers using yellow and pink gold embroidery thread. I cut out the leaves and stem from green cardstock and then glued each of the flowers to a stem. I think that this die set is so much fun and creates an adorable pocket of flowers. I tucked the flowers and leaves into the pocket … how cute is this card? For my sentiment, I used the "THANKS A BUNCH" sentiment die that was included in this month's kit. To finish off this card, I added a gold heart puffy sticker from the Spellbinders February card kit.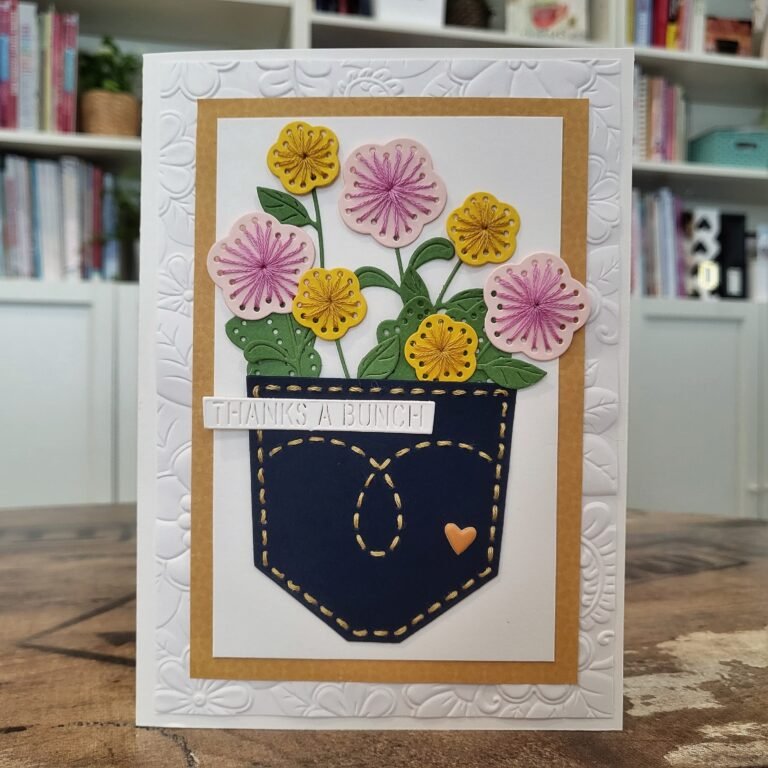 For my second card, I used the 3D embossing folder of the month and green carstock to create a panel for my card. I started with a 5″x7″ card base for this card as well and I think using the 5″x7″ format really helps to showcase the embossing. I used a floral pattern paper from the Spellbinders February Card Kit and white cardstock to create a card layer to add to the center of the card. I used dies from the Spellbinders February Card Kit to create fun floral clusters and then added in some butterflies. For the sentiment, I added a chipboard circle "Just a Hello" also from the Spellbinders February Card Kit. To finish of this card and add a bit of sparkle, I added some Honeybee Stamp Tiny Clear gems to each butterfly.
I hope I've given you some inspiration for how you can use the new Spellbinders Embossing Folder and the Stitched Dies to create beautiful, elegant cards. Thanks so much for taking the time to stop by my blog. I hope you join me again in March for more cards created with the awesome club kits from Spellbinders.
@teamspellbinders #Spellbinders #neverstopmakings #amazingpapergrace_creates