Sending Good Thoughts Card created with the Beautiful Sentiment Vignettes by Becca Feeken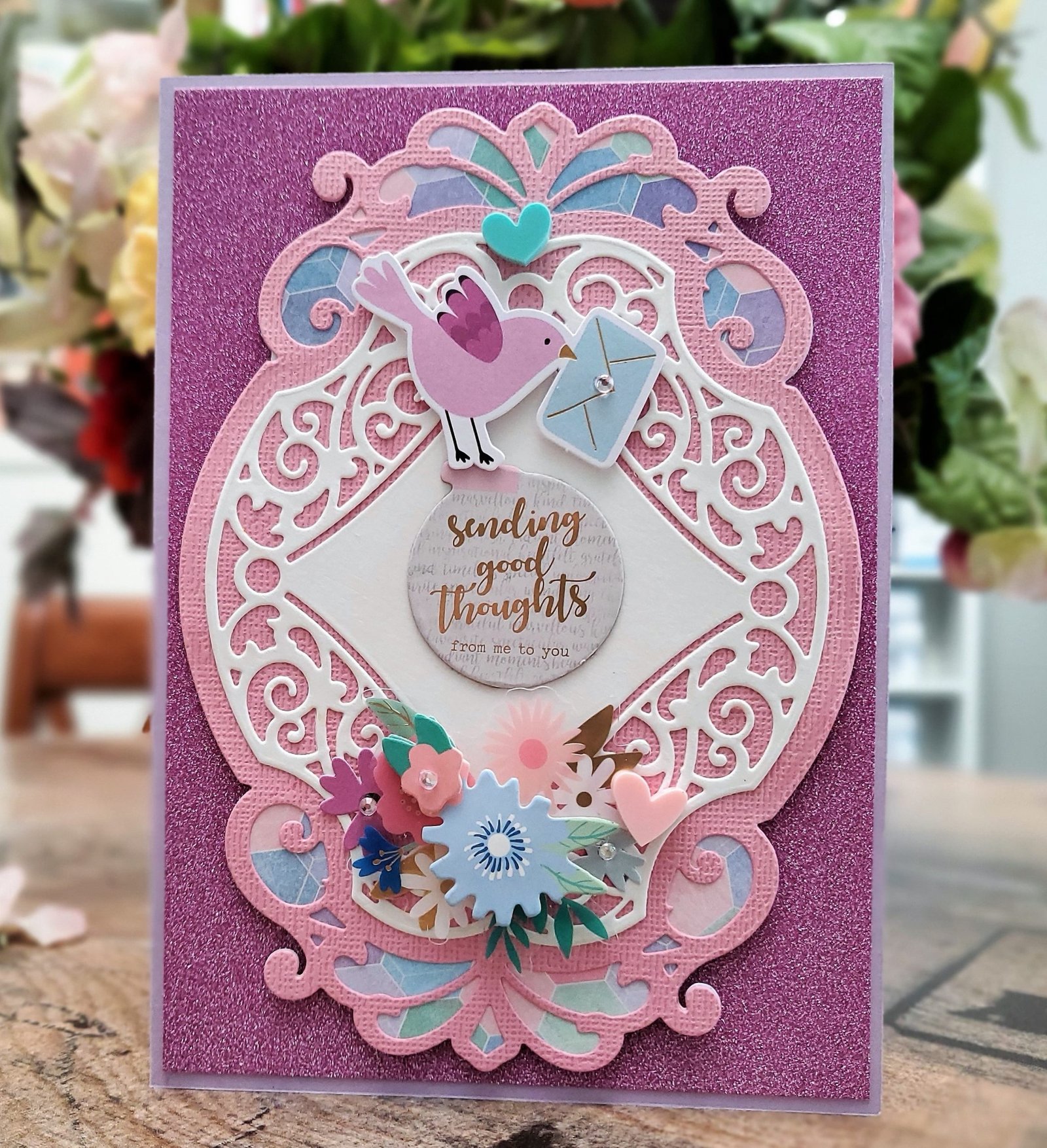 I'm super excited to share the cards that I created using the Spellbinders collection Beautiful Sentiment Vignettes by Becca Feeken. For my first card, I used the Romantic Chargeour die set to create a "Get Well" card to send to a friend.
Click here to watch how I created this card using the beautiful dies from the Beautiful Sentiment Vignettes by Becca Feeken.
For this card, I decided to use cardstock and patterned papers from the Spellbinders Card Kit Weekend Fun. I also used a glitter paper from the Crafter's Companion Glitter Cardstock. I started by selecting papers for my card and cutting out the layers for my card panel using the Romantic Chargeour dies (shown below).
Spellbinders Beautiful Sentiment Vignettes Happy Anniversary
I cut out the main Card Panel using pink card stock and then cut out some multi-color hexagon patterned paper to layer behind the open areas. I also used the middle dies to create a second panel to layer on top of the main panel. I created a 5″x7″ card base using a purple cardstock and then layered a piece of darker purple glitter cardstock on top before adding some foam tape to the card panel and adding it to the card base.
Next, I added The sentiment for this card comes from the Rosie's Studio Indigo Mist chipboard. The 3-D floral sticker is from the Rosie Studio's Daisy Chain 3-D stickers, and the other dies are from the Rosie's Studio Taking Flight ephemera.. To finish this card, I added a few gemstones from Honey Bee Stamps and some acrylic hearts from Bramble Fox.
Here are some closeups.
And, here's a full picture of the card.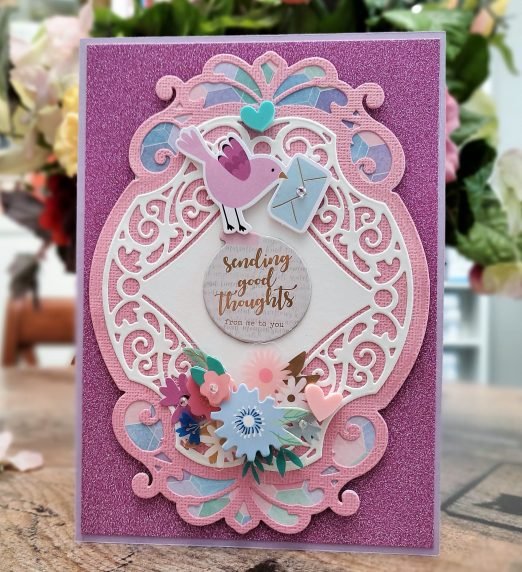 I hope I've given you some inspiration for how you can use the dies from the new Spellbinders Beautiful Sentiment Vignettes collection to create some fun cards that can be used for so many different anniversaries.
@teamspellbinders #Spellbinders #neverstopmaking