Scrap Our Stash | July "Pick Your Side" Sketch Challenge | 50 & Fabulous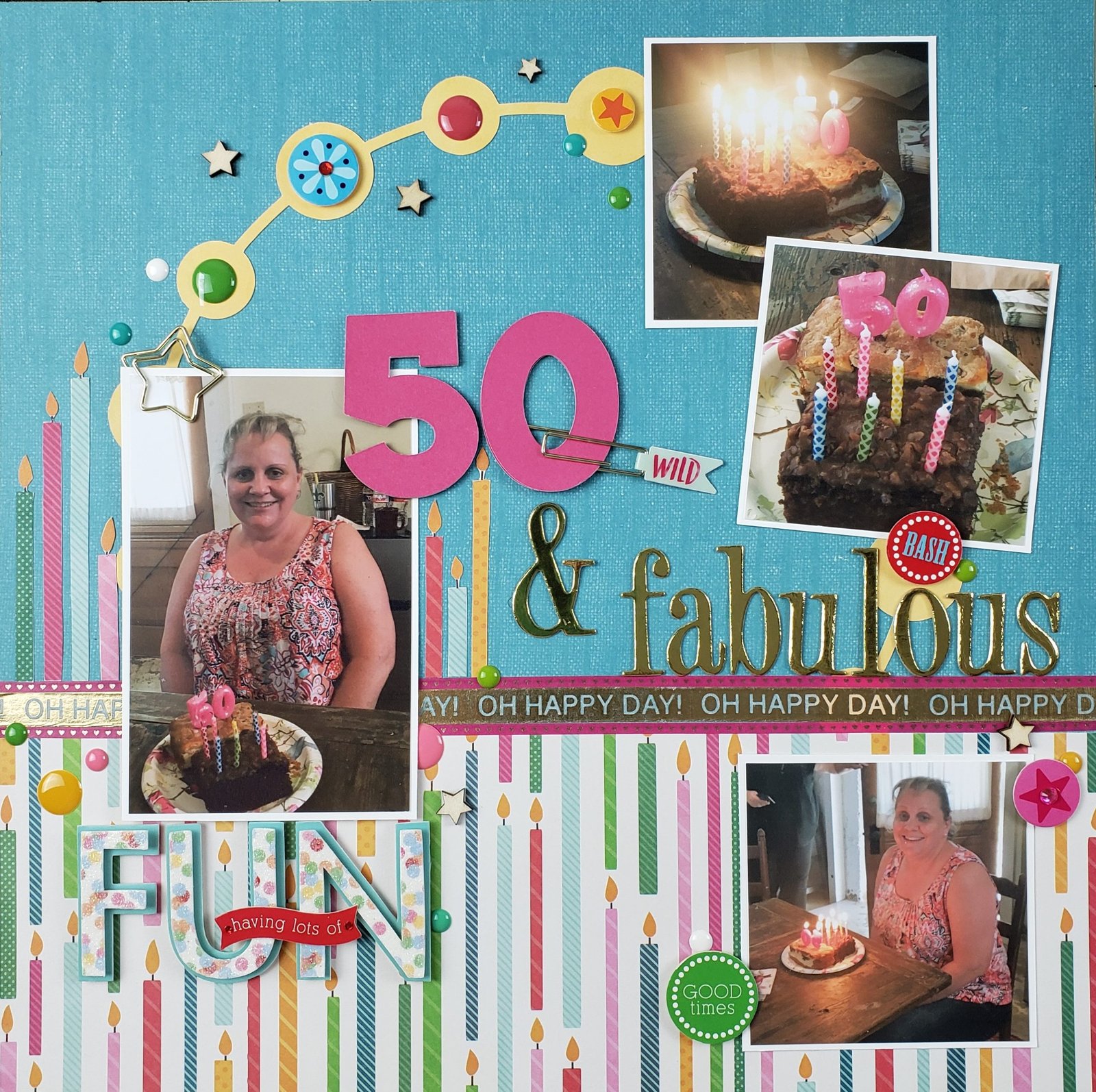 This layout was created for the Scrap Our Stash July "Pick Your Side" Sketch Challenge. If you are interested in participating in this July "Pick Your Side" sketch challenge head on over to the Scrap Our Stash Blog.
For this challenge, create a layout inspired by the sketch and also be sure to include wood or wood veneers. The sketch for this challenge is shown below.
I choose the right side for my layout. I was inspired by the large circle. So often I use straight lines, rectangles and squares in my layouts. I've been recently exploring the use of circles and I'm enjoying the added interest that other shapes can give a layout. I wanted to use a ring of some kind so I searched the Cricut Library and found this really cool ring with circles called the "Abstract Circle Ring" from the "Abstract Circle Designs" which is included with Cricut Access. I also cut out the number 50 using the font "Birthday Bash" in a bright pink cardstock. I wanted the 50 to be very large and so I used the Font Size 140.
The pictures in this layout are from 2015 when we took my sister to the Wine Country in Fredericksburg, TX to celebrate her 50th Birthday. I choose these pictures because I wanted to use some bright and colorful papers.
For this layout, I decided to use some paper from the Pebbles Birthday Wishes paper pad. I really loved the candles and I even fussy cut a few of the candles to use as embellishments. The background is from American Crafts Autumn Crisp Collection Willow ("B" side). I took a strip of the candle patterned paper and then added some pink washi with gold hearts and some gold washi with "Oh Happy Day" across the page.
The "50 & Fabulous" title was created using the number "50" from Cricut and some gold foil Sticko stickers from EK Success.
I added some wood veneer stars, enamel dots, a few paper clips and some bright and colorful party themed stickers from Me & My Big Ideas. Here are some close ups.
Here's a full picture of my layout.
I hope I've inspired you to join in on this month's challenge at. For more inspiration, go over to Scrap Our Stash Blog and check out the other Design Team Member layouts for this month's challenges.